Soundtrack Information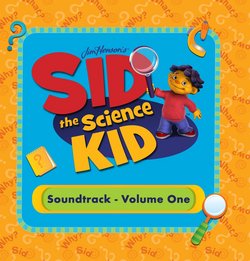 Sid the Science Kid - Volume One
Release Date: May 4, 2009
Format: CD
Purchase Soundtrack
Track Listing
1.
Sid the Science Kid Theme Song
2.
I Love My Mom/Looking for My Friends
3.
Waves of Sound
4.
Ruth's Tooth
5.
My Best Guess
6.
It Feels Good To Be A Snake
7.
Detective Story
8.
On Penguin Pond
9.
Decay
10.
You Look Different
11.
I Magnify
12.
The Look Around
13.
Journey of a Germ
14.
Cooking Is Chemistry
15.
Checkin' Out Charts
16.
A Pirate's Tale
17.
Work Your Body
18.
Delicious Nutritious Band
Track lengths not available for this album. If you have track length/time information for this album, please e-mail it to us at mail@soundtrack.net and we will add it to the database.
Missing Information?
If any information appears to be missing from this page, contact us and let us know!