Soundtrack Information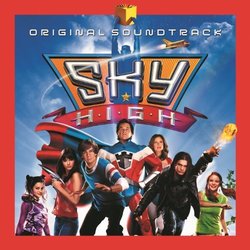 Sky High
Hollywood Records (2061-62523-2)
Release Date: July 26, 2005
Formats: CD, Digital
Music From
Purchase Soundtrack
Track Listing
| | | |
| --- | --- | --- |
| 1. | "I Melt With You" - Bowling For Soup | 4:03 |
| 2. | "Through Being Cool" - They Might Be Giants | 3:17 |
| 3. | "Save It For Later" - Flashlight Brown | 2:49 |
| 4. | "Everybody Wants To Rule The World" - Christian Burns | 4:28 |
| 5. | "One Thing Leads To Another" - Steven Strait | 3:10 |
| 6. | "Lies" - The Click Five | 2:58 |
| 7. | "Voices Carry" - Vitamin C | 4:16 |
| 8. | "Please, Please, Please Let Me Get What I Want" - Elefant | 2:53 |
| 9. | "True" - Cary Brothers | 5:11 |
| 10. | "Just What I Needed" - Caleigh Peters | 3:38 |
| 11. | "Can't Stop The World" - Ginger Sling | 3:25 |
| 12. | "And She Was" - Keaton Simons | 3:49 |
| 13. | "Twist And Crawl" - Skindred | 2:31 |
| | Total Album Time: | 46:28 |
Review: Sky High
by Brian McVickar
August 31, 2005
2 / 5 Stars
A family film for summer 2005, this lighthearted Disney offering takes elements of The Incredibles and X-Men to help tell its story of a boy who has yet to discover what his super-power is while at a school that develops these talents. The score as composed by Michael Giacchino, but the actual CD soundtrack release contains only songs used (or inspired by?) the film.
Most of the songs consist of covers of hits from the 80 \'s. For the most part, this is a more creative idea than simply reiterating the multiple 80 \'s compilation albums which include the original versions. The problems arise though when the remakes are either jarringly or annoyingly too different from the original or sound too much like it, as if the producers simply took the original instrumental tracks and overlaid new vocals. Bowling For Soup \'s remake of "I Melt With You " by Modern English was of the former, where I found their version highly annoying, mainly due to the whiny singing style which is actually pretty prevalent in much of today's pop music. On the other end of the spectrum, is Christian Burns \' cover of the Tears for Fears classic "Everybody Wants to Rule the World ", where it sounds so much like the original I might as well pull out the Tears for Fears album on which it resides and listen to that. It does mean the cover is not enjoyable, just superfluous in a way.
The covers of Talking Heads \' "One Thing Leads to Another " and The Smiths \' "Please Please Please Let Me Get What I Want " are good, faithful yet unique enough to be worthy of a spin. The Cary Brothers remake of "True " is certainly a winner among this collection. The Cars \' "Just What I Needed " gets a twist in its new version through it including a lead female vocalist. "Voices Carry " gets its new coat of paint by a band called Vitamin C, and they do their best to emulate the style and tone of the original. The Skindred cover of "Twist and Crawl " I found annoying, but the Keaton Simons version of "And She Was " was fairly decent. If the song "Lies " by The Click Five is also a cover than have no clue what the original sounds like, but I do know that I never want to hear it again.
"Save It For Later " and "Can't Stop The World " are two more tracks which I do not recognize as a cover and even though I grew up in the 80 \'s I could have missed a song here or there. What is heard here is on par with the sound and style of other teen pop fare currently produced. It could be hit with some, but I still find it unpalatable. Lastly, "Through Being Cool" by They Might Be Giants is a fun tune, as this band has been around for long time and can always be relied upon to produce unique, engaging pop songs. So, if you are a child of the 80 \'s who now has kids of their own, this could be a ingenious method of introducing them to the music you grew up with. Or if you collect all versions of 80 \'s pop classics. Or if you really enjoyed the film and this is the only available musical memento until a score album is released. Otherwise, skip it.
Missing Information?
If any information appears to be missing from this page, contact us and let us know!