Soundtrack Information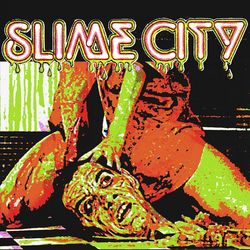 Slime City
Limited Mondo Con Edition of 75 Copies
Release Date: October 3, 2015
Format: Vinyl
Music From
Music By
Track Listing
1.
SIDE A: Main Title
2.
Meeting Nicole
3.
Night Games
4.
Himalayan Yogurt
5.
Elixir
6.
Seduction
7.
Slime Time
8.
Yummy
9.
Premonition
10.
Zachary's Legacy
11.
Dinner Slime
12.
SIDE B: You Crazy Bastard!
13.
Spurning Nicole
14.
Madame Selena
15.
Discovery
16.
Revelations
17.
Gothic Temptress
18.
Jail Bait
19.
Seaman's Rap
20.
Headbanging
21.
Lori & Nicole
22.
Prelude To Sex
23.
Gross Out Climax
24.
Epilogue
25.
End Titles
Track lengths not available for this album. If you have track length/time information for this album, please e-mail it to us at mail@soundtrack.net and we will add it to the database.
Related Albums
Slime CityLP Limited to 1,000 Copies / Cassette Limited to 300 Copies
Strange Disc Records (SD-002LP)

Released: July 7, 2015

Formats: Cassette, Vinyl

Slime City20th Anniversary Commemorative Soundtrack
Direct-to-Listener Release (SCCD1)

Released: December 4, 2007

Format: CD (40 min)
From the Manufacturer
A huge part of what makes Slime City so fantastic is it's wildly creative score, which was composed by the now PHD, and current Music Director of the Beloit Janesville Symphony, Robert Tomaro. Rob's score is unlike any horror soundtrack past or present. The score is most certainly slimy as the film's title would leave you hoping for. Very much classically written, but with a serious mix of punk guitar work and weirdo avant-garde synth. A truly unique composition.
Missing Information?
If any information appears to be missing from this page, contact us and let us know!