Soundtrack Information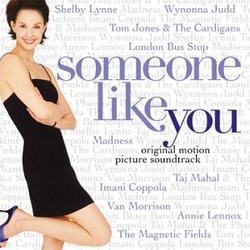 Someone Like You
TVT Records (TVT 6980-2)
Release Date: March 30, 2001
Format: CD
Music From
Purchase Soundtrack
Track Listing
1.
"Burning Down The House" - Tom Jones & The Cardigans
2.
"Bang A Gong (Get It On)" - London Bus Stop
3.
"I'm A Tree" - Imani Coppola
4.
"It Must Be Love" - Madness
5.
"Absolutely Cuckoo" - The Magnetic Fields
6.
"Train In Vain" - Annie Lennox
7.
"Woulda Coulda Shoulda" - Taj Mahal & The Phantom Blues Band
8.
"Dreamsome" - Shelby Lynne
9.
"You Are" - Wynonna Judd
10.
"Someone Like You" - Van Morrison
Track lengths not available for this album. If you have track length/time information for this album, please e-mail it to us at mail@soundtrack.net and we will add it to the database.
Review: Someone Like You
by Matthew Sheby
December 2, 2004
3 / 5 Stars
What do you get when you mix one (1) Welsh singer, one (1) Swedish band, and four (4) New York Talking Heads? (Besides a cliché-laden intro?) One head-bopping experiment! Tom Jones and the Cardigans cover "Burning Down the House" on the opening track to the Someone Like You soundtrack. Mr. Jones overexaggerates slightly, but his vocal styling is in no way bad, especially when considering he's covering an 80's new wave song. One point I must make: it doesn't sound like the Cardigans were in the same room with Jones with the song was recorded. I could be wrong on this, and if so I apologize, but the song feels a bit false, even empty. Perhaps if the instruments didn't sound so electronic and processed.
Super-retro is how I describe Madness's "It Must Be Love." It feels like eighties ska, an eighteen-year-old tune lingering on. It's a song about love being "the best," it's a song with a cheesy sax solo, it's a song with synthesizers. Totally! Even more retro is The Magnetic Fields "Absolutely Cuckoo." Male voices that harmonize over banjos was something I thought went out with that 60's folk Tom Dooley song, but this has electronic arpeggios.
There are several songs that seem targeted towards women. For example, if Lambchop the Sock Puppet rapped, she'd sound like Imani Coppola performing "I'm A Tree." Reminiscent of an Arrested Development tune, this rhyme about a tree is the kind of rap your mom would listen to. Really. No lyrics could build more G-rated female empowerment than lines like "I'm a tree" or "Keep your head up, girl; keep your head up." Annie Lennox represents over a mellow, laid back bassline and drum machine with "Train in Vain." Again, this is a genre of song that your mom would listen to. I almost nodded off in my papasan while listening to the Eurhythmics vocalist. Fortunately, the sudden appearance of a gospel chorus woke me towards the end of the song. The recent Grammy winner Shelby Lynne serenades sweetly yet mournfully with "Dreamsome." An unexpected bonus is the soft and mellow flute a la James Moody. It's music for a rainy day.
Wynonna Judd, the film's star's sister, sings "You Are." If I remember my late-night talk shows correctly, Ashley Judd mentioned a few weeks back that it was written with her (Ashley) in mind. Wynonna can sing. It's not really what I would consider country, but rather more in line with "adult contemporary" (hey, it's a Billboard classification). It's a beautifully-sounding romantic song. Also lovely is Van Morrison's title track "Someone Like You," a lush production. Replete with string section, piano, and brushed drums, Morrison's backing musicians lend a distinct class to what could have been an unremarkable love song. This is elevated to the kind of song on your stereo when you cuddle with your girlfriend on the couch, sipping wine, watching the fireplace. Play this and get your groove on.
Another enjoyable tune is a classic blues song made with a powerful, emotive release by the performers. Taj Mahal & The Phantom Blues Band do such with "Woulda Coulda Shoulda," an album highlight. A despondent guitar solo, backed by an organ and horns underneath, make this an excellent song. This is music to cry to, or to love to.
Without exaggeration, the album's second track is the worst song I've heard while under the employ of SoundtrackNet. With lines like "everybody in the place get it on with me," London Bus Stop slaughters T.Rex's "Bang a Gong (Get It On)." This song is so bad, it almost feels as if it were written to mock Euro-dance songs of the early 90's that fused techno and rap. Whoever placed this song on the album gets my vote for "Music Supervisor Most Likely to Have Tripped on Acid." In other words, I felt a visceral reaction to this song.
End game: three out of five stars. It's mellow, it's relaxing. I would have given it three-and-one-half stars, but I always had to find the "next track" button on my remote to skip pass the intolerable second track. If you're looking for good "lovin' music" or even "rainy day" music, give this album a try.
Missing Information?
If any information appears to be missing from this page, contact us and let us know!