Soundtrack Information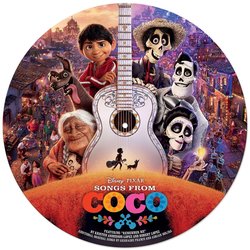 Songs from Coco - Vinyl Edition
Release Date: April 20, 2018
Format: Vinyl
Music From
Purchase Soundtrack
Track Listing
1.
Remember Me (Ernesto de la Cruz) (Benjamin Bratt)
2.
Much Needed Advice (Benjamin Bratt and Antonio Sol)
3.
Everyone Knows Juanita (Gael García Bernal)
4.
Un Poco Loco (Anthony Gonzalez and Gael García Bernal)
5.
Jálale (Mexican Institute of Sound)
6.
The World Es Mi Familia (Anthony Gonzalez and Antonio Sol)
7.
Remember Me (Lullaby) (Gael García Bernal and Gabriella Flores and Libertad García Fonzi)
8.
La Llorona (Alanna Ubach and Antonio Sol)
9.
Remember Me (Reunion) (Anthony Gonzalez and Ana Ofelia Murguía)
10.
Proud Corazón (Anthony Gonzalez)
11.
Remember Me (Dúo) (Miguel feat. Natalia Lafourcade)
12.
Recuérdame (Solo) (Natalia Lafourcade)
Track lengths not available for this album. If you have track length/time information for this album, please e-mail it to us at mail@soundtrack.net and we will add it to the database.
Missing Information?
If any information appears to be missing from this page, contact us and let us know!