Soundtrack Information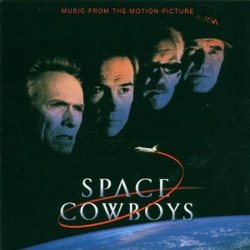 Space Cowboys
Warner Bros. Records (9 47848-2)
Release Date: August 8, 2000
Formats: CD, Digital, Cassette
Music From
Purchase Soundtrack
Track Listing
| | | |
| --- | --- | --- |
| 1. | "Still Crazy After All These Years" - Willie Nelson | 3:47 |
| 2. | "I Only Have Eyes For You" - Mandy Barnett | 4:26 |
| 3. | "The Best Is Yet To Come" - Joshua Redman | 4:59 |
| 4. | "Take It To The Limit" - Chad Brock | 4:43 |
| 5. | "Young At Heart" - Willie Nelson | 3:23 |
| 6. | "Hit The Road Jack" - Joshua Redman | 4:07 |
| 7. | "Old Man" - Brad Mehidau | 3:42 |
| 8. | "The Second Time Around" - Joshua Redman | 5:50 |
| 9. | "Last Night" - Larry Goldings featuring Maceo Parker & Fred Wesley | 5:04 |
| 10. | "Still Crazy After All These Years" - Brad Mehldau Trio | 4:06 |
| 11. | "Fly Me To The Moon (In Other Words)" - Frank Sinatra & Count Basie | 2:29 |
| | Total Album Time: | 46:36 |
Review: Space Cowboys
by Dan Goldwasser
August 17, 2000
3.5 / 5 Stars
When a Russian satellite's orbit starts to decay, and a rescue mission is set up to fix the guidance system, NASA turns to Dr. Frank Corvin (Clint Eastwood) who designed that system for help. Corvin, part of the original Team Daedalus, insists to go up into space - along with the rest of his original team, as they were passed over for the first space flights so that a monkey could go into orbit. Space Cowboys, directed by Eastwood, featured Tommy Lee Jones, Donald Sutherland, and James Garner as the three other team members. Call it The Right Stuff + 40 years. There is plenty of humor in the film, and once they get up into space, there are some very exciting action sequences and visual effects (provided by Industrial Light and Magic who were no doubt keeping their skills honed for Episode II). The film suffered from a bit of jumping around - either sequences were cut out, or the pacing was just a bit odd. But the acting was solid, and the storyline was engaging. The music in the film housed a solid score by Eastwood regular Lenny Niehaus, as well as a great selection of smooth jazz numbers.
Appropriately picked, "Still Crazy After All These Years" shows up twice on the soundtrack album - once by Willie Nelson in the original recording, and once in an instrumental as performed by the Brad Mehldau Trio. There is a romantic subplot in the film, and so "I Only Have Eyes For You" as sung by Mandy Marnett is an appropriate tune to include. Other songs have more spiritual meaning for the film: "Take It To The Limit" and "Young At Heart" are good examples of those. While they don't underscore any particular sequence, they did add atmosphere and certainly meaning when taken in the context of the storyline.
There are a few instrumental cues on the album, including some great smooth jazz numbers as performed by Joshua Redman. "The Best is Yet To Come", "Hit The Road Jack" and "The Second Time Around" are all great numbers, and Eastwood did a good job to pick them for the film. Redman is joined on the album as well by Brad Mehldau performing "Old Man", and then with his Trio performing a rendition of "Still Crazy After All These Years". "Last Night" is highly reminiscent of Get Shorty, but as performed by Larry Goldings featuring Maceo Parker & Fred Wesley, it's just another fun jazz number on a highly enjoyable album.
Sadly missing from the album is the score by Lenny Niehaus. Whether or not they will release a score album is unknown at this time, but it would have been nice to include at least the main theme, which I found to be very patriotic and rousing in the film. The album ends, however, on an upbeat note (while the film ends on a bittersweet note) with Frank Sinatra and Count Basie's rendition of "Fly Me To The Moon (In Other Words)". It's a great song to end this highly enjoyable album, and was actually a rather apropos way to end the film as well. Released on Malpaso/Warner Bros. Records, this album runs almost 47-minutes long, and if you're a jazz fan, or just a fan of smooth music, you might want to seriously consider picking this one up.
Missing Information?
If any information appears to be missing from this page, contact us and let us know!