Soundtrack Information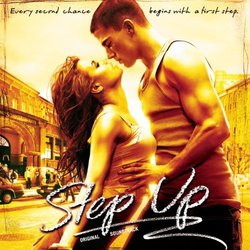 Step Up
Walt Disney Records (82876-88063-2)
Release Date: August 8, 2006
Formats: CD, Digital
Music From
Purchase Soundtrack
Track Listing
| | | |
| --- | --- | --- |
| 1. | 'Bout It (Clean Version) (Yung Joc feat 3LW) | 4:16 |
| 2. | Get Up (Main Version) (Ciara feat. Chamillionaire) | 4:23 |
| 3. | (When You Gonna) Give It Up To Me (Sean Paul feat Keyshia Cole) | 4:03 |
| 4. | Show Me The Money (Petey Pablo) | 3:44 |
| 5. | 80's Joint (Kelis) | 3:11 |
| 6. | Step Up (Samantha Jade) | 3:25 |
| 7. | Say Goodbye (Chris Brown) | 4:46 |
| 8. | Dear Life (Anthony Hamilton) | 4:14 |
| 9. | For The Love (Drew Sidora feat Mario) | 3:43 |
| 10. | Ain't Cha (Clipse feat. Re-Up Gang and Roscoe P. Coldchain) | 4:41 |
| 11. | I'mma Shine (Youngbloodz) | 3:36 |
| 12. | Feelin' Myself (Dolla) | 3:44 |
| 13. | 'Til The Dawn (Drew Sidora) | 3:09 |
| 14. | Lovely (Deep Side) | 4:02 |
| 15. | U Must Be (Gina Rene) | 4:44 |
| 16. | Made (Jamie Scott) | 2:15 |
| 17. | Look At Me Shinin' (J-Kwon) | 4:21 |
| | Total Album Time: | 66:17 |
Review: Step Up
by Matthew Sheby
August 3, 2006
3.5 / 5 Stars
As befits a movie about dancing, the Step Up soundtrack holds several club tracks. The first track on the CD and exploding out of my speakers is "\'Bout It" by Yung Joc and 3LW. Deserving of a packed dance floor, this is a perfect club track for the late summer heat. Drew Sidora contributes a fun party jam, complete with 70s funk guitar, in "\'Til the Dawn." (As an aside, I recently listened to Nate Harrison\'s revelatory Can I Get An Amen?. That helped me my first pass through this track to realize that it opened, in fact, with the "Amen Break". Anyway...) Another great up-tempo number is delivered by Sean Paul and Keyshia Cole in their dancehall "Give It Up To Me".
One might imagine that with lyrics like "the club is jumping, yeah / so get up," that the song "Get Up" would be part of the aforementioned collection of fast songs. However, Ciara\'s track is down-tempo and chilled. Chamillion\'s guest MC appearance reinforces its slowed-down, dirty South feel. This places it more in companionship with other crunk tracks on the soundtrack, like "Imma Shine" by the Youngbloodz. This atmosphere is further extended by Petey Pablo\'s impressive lyricism on "Show Me the Money".
The title track on this album is performed by an impressive Aussie vocalist named Samantha Jade. Written by Wyclef Jean, Jerry Minor, and Diane Warren, "Step Up" sounded vaguely familiar to me, despite my not ever having heard an R&B singer from Terra Australis before. Upon reflection, it reminded me of Coyote Ugly, another soundtrack on which Diane Warren contributed songs. To be honest, if one subtracted the sampling in the background, this could have fit in easily on the aforementioned soundtrack. She brings a lovely vocal styling on the track, but the song seems nondescript. I do look forward to hearing her debut album.
Several of the album\'s songs are more romantic, reflecting that component of the R&B genre. Kelis\'s "80\'s Joint" does in truth feel like a slow 80s soul jam, possibly due to the presence of Rafael Saadiq as a cowriter. Drew Sidora contributed a second song to the soundtrack, singing with Mario on the silky "For the Love." Chris Brown\'s "Say Goodbye" is a R&B ballad that reminds me of a Bone Thugs-N-Harmony track. Similarly, "Lovely" by the quartet Deep Side evokes an early 90s New Jack ballad.
There are several standouts on this collection, Anthony Hamilton\'s "Dear Life" is a bluesy soul number and is the most well-crafted track on the soundtrack. Gina Rene\' also greatly impresses me with her sultry voice on "U Must Be." The Hammond organ doesn\'t hurt either. Then there\'s the Prince-like Jamie Scott from England. I don\'t know how long he\'s been performing, but he sounds like a veteran.
Not everybody likes R&B, nor do many like rap. For those who are hip-hop, however, this is a very good collection of tracks and well worth getting. SoundtrackNet says: three and one-half stars out of five.
Missing Information?
If any information appears to be missing from this page, contact us and let us know!