Soundtrack Information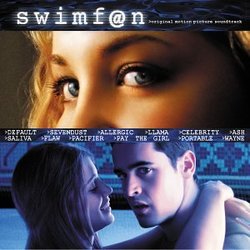 Swimfan
TVT Records (TVT 6650-2)
Release Date: September 6, 2002
Format: CD
Music From
Purchase Soundtrack
Track Listing
| | | |
| --- | --- | --- |
| 1. | Everything (Pacifier) | 4:27 |
| 2. | Greater Than/Less Than (Saliva) | 4:49 |
| 3. | Cave (Celebrity) | 3:33 |
| 4. | Deny (Default) | 3:53 |
| 5. | Slow Down (Wayne) | 4:29 |
| 6. | Black (Sevendust) | 4:09 |
| 7. | Whole (Flaw) | 3:49 |
| 8. | Down in Me (Allergic) | 3:01 |
| 9. | Roll Over and Play Dead (Portable) | 3:36 |
| 10. | Clueless (Pay the Girl) | 3:50 |
| 11. | Too Much Too Soon (Llama) | 3:35 |
| 12. | Jesus Says (Ash) | 4:43 |
| | Total Album Time: | 47:54 |
Review: Swimfan
by SoundtrackNet Staff (SF)
July 13, 2004
2 / 5 Stars
You saw the trailers for Swimfan, right? Then you have an idea for how difficult writing this review has been.
After the first listen, I felt a little (just a little!) guilty for all my pre-conceived contempt, because all of the songs on the soundtrack aren't awful; in fact, many of them range from decent to pretty good. It's their appearance on the soundtrack that's the problem, though - it just doesn't work. A few frustrated attempts at being fair ended with me ignoring the CD for a several days.
I dropped it back in for another listen and it still confounds me. None of the songs stand out as memorable; I really only remember that Sevendust is on it because, well, I'm a fan. And then there's Default with "Deny" - a good track, though unfortunately the rest of their debut record doesn't follow suit - but that's all I can tell you.
One of the difficulties in writing about this soundtrack lies in the fact that it's a draining record. Usually, I can listen to Sevendust and get all charged up, ya know? But lost in the mix of this unconvincingly angst ridden collection, there's no charge. It's exhausting just getting through it from start to finish; thus my almost total lack of snark this go 'round.
The final word? Meh.
Missing Information?
If any information appears to be missing from this page, contact us and let us know!