Soundtrack Information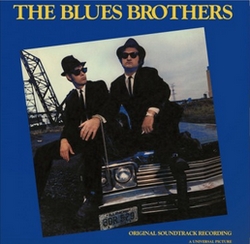 The Blues Brothers - Vinyl Edition
Limited Variant
Release Date: August 25, 2014
Format: Vinyl
Music From
Purchase Soundtrack
Track Listing
1.
SIDE A: She Caught the Katy
2.
Peter Gunn Theme
3.
Gimme Some Lovin'
4.
Shake Your Tailfeather
5.
Everybody Needs Somebody to Love
6.
The Old Landmark
7.
SIDE B: Think
8.
Theme from Rawhide
9.
Minnie the Moocher
10.
Sweet Home Chicago
11.
Jailhouse Rock
Track lengths not available for this album. If you have track length/time information for this album, please e-mail it to us at mail@soundtrack.net and we will add it to the database.
From the Manufacturer
Comic actors John Belushi and Dan Aykroyd rightfully get credit for exposing many people to the music of Blues and R&B veterans. The soundtrack to their hugely successful musical comedy Blues Brothers was released on June 20, 1980 as the second album by the Blues Brothers Band, which also toured that year to promote the film.
The rollicking remake of the Spencer Davis Group's "Gimme Some Lovin'" was a Billboard Top 20 hit, featuring an arrangement notable for the horn section that replaces Steve Winwood's rumbling organ work. Ray Charles has a good time with "Shake a Tail Feather," and he's helped out by Jake and Elwood Blues (Belushi and Aykroyd, respectively). The cover of Solomon Burke's "Everybody Needs Somebody to Love" is a lot of fun, thanks to the great overall rhythm and Elwood's lightning-fast stage rap, while James Brown and the Reverend James Cleveland Choir provide a blast of gospel music on "Old Landmark." Aretha Franklin's "Think" is explosive, and Cab Calloway's "Minnie the Moocher" is slyly irresistible.
The first 2000 copies are numbered and pressed on blue vinyl! 180 gram audiophile vinyl. Original 1980 soundtrack.
Missing Information?
If any information appears to be missing from this page, contact us and let us know!