Soundtrack Information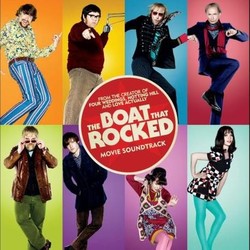 The Boat That Rocked
Release Date: July 28, 2009
Format: CD
Music From
Purchase Soundtrack
Track Listing
Disc 1: The Boat That Rocked
1.
Stay With Me Baby (Duffy)
2.
All Day And All Of The Night (The Kinks)
3.
Elenore (The Turtles)
4.
Wouldn't It Be Nice (Beach Boys)
5.
Judy In Disguise (John Fred and Playboys)
6.
Dancing In The Street (Martha Reeves & The Vandellas)
7.
Ooh Baby Baby (Smokey Robinson)
8.
This Guy's In Love (Herb Alpert)
9.
Crimson & Clover (Tommy James)
10.
Hi Ho Silver Lining (Jeff Beck)
11.
I Can See For Miles (The Who)
12.
With A Girl Like You (The Troggs)
13.
Letter (Boxtops)
14.
I'm Alive (The Hollies)
15.
Yesterday Man (Chris Andrews)
16.
I've Been A Bad Bad Boy (Paul Jones)
17.
Silence Is Golden (Tremeloes)
18.
End Of The World (Skeeter Davis)
Disc 2: The Boat That Rocked
1.
Friday On My Mind (Easybeats)
2.
My Generation (The Who)
3.
I Feel Free (Cream)
4.
The Wind Cries Mary (Jimi Hendrix)
5.
A Whiter Shade Of Pale (Procol Harum)
6.
These Arms of Mine (Otis Redding)
7.
Cleo's Mood (Junior Walker & The All Stars)
8.
The Happening (The Supremes)
9.
She'd Rather Be With Me (The Turtles)
10.
98.6 (The Standers)
11.
Sunny Afternoon (The Kinks)
12.
Father and Son (Cat Stevens)
13.
Nights in White Satins (The Moody Blues)
14.
You Don't Have to Say You Love Me (Dusty Springfield)
15.
Stay with Me (Baby) (Lorraine Ellison)
16.
Hang On Sloopy (The McCoys)
17.
This Old Heart of Mine (The Isley Brothers)
18.
Let s Dance (David Bowie)
Track lengths not available for this album. If you have track length/time information for this album, please e-mail it to us at mail@soundtrack.net and we will add it to the database.
Missing Information?
If any information appears to be missing from this page, contact us and let us know!