Soundtrack Information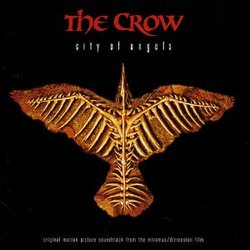 The Crow: City of Angels
Hollywood Records (MH 62047-2)
Release Date: July 30, 1996
Formats: CD, Digital
Music From
Purchase Soundtrack
Track Listing
1.
"Gold Dust Woman" - Hole
2.
"I'm Your Boogeyman" - White Zombie
3.
"Jurassitol" - Filter
4.
"Naked Cousin" - PJ Harvey
5.
"In A Lonely Place" - Bush
6.
"Tonite Is A Special Nite [Kaos Mass Confusion Mix]" - Tricky vs. The Gravediggaz
7.
"Shelf Life" - Seven Mary Three
8.
"Knock Me Out" - Linda Perry featuring Grace Slick
9.
"Paper Dress" - Toadies
10.
"Spit" - NY Loose
11.
"Sean Olson" - Korn
12.
"Teething" - Deftones
13.
"I Wanna Be Your Dog (live)" - Iggy Pop
14.
"Lil' Boots" - Pet
15.
"City of Angels" - Above The Law featuring Frost
Track lengths not available for this album. If you have track length/time information for this album, please e-mail it to us at mail@soundtrack.net and we will add it to the database.
Missing Information?
If any information appears to be missing from this page, contact us and let us know!