Soundtrack Information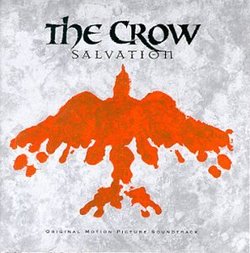 The Crow: Salvation
Koch (KDC-PRO-1019)
Release Date: March 28, 2000
Format: CD
Music From
Purchase Soundtrack
Track Listing
| | | |
| --- | --- | --- |
| 1. | The Best Things (Exclusive Radio Remix) (Filter) | 3:38 |
| 2. | Living Dead Girl (Naked Exorcism Mix) (Rob Zombie) | 4:10 |
| 3. | Bad Brother (The Infidels) | 5:23 |
| 4. | Warm Winter (Kid Rock) | 4:05 |
| 5. | It's All Over Now, Baby Blue (Hole) | 3:37 |
| 6. | What You Want (The Flys) | 3:26 |
| 7. | Big God (Monster Magnet) | 5:58 |
| 8. | Painful (Sin) | 3:51 |
| 9. | Anthistamine (Forgotten By The World Mix) (Tricky) | 4:38 |
| 10. | Independent Slaves (Days of The New) | 4:36 |
| 11. | Everything Sucks (Again) (Pitchshifter) | 4:27 |
| 12. | Waking Up Beside You (Stabbing Westward) | 6:00 |
| 13. | Now Is The Time (The Crystal Method Millennium Mx) (The Crystal Method) | 5:36 |
| 14. | Burning Inside (Static X) | 4:13 |
| 15. | Rusted Wings (New American Shame) | 3:32 |
| 16. | Underbelly of The Beast (Remix of 'Belly of The Beast') (Danzig) | 4:06 |
| | Total Album Time: | 71:16 |
Review: Crow: Salvation, The
by Matthew Sheby
December 2, 2004
3 / 5 Stars
The soundtrack to the third of the Crow movies continues in its predecessors' tradition of blending hard rock, thrash metal, and even techno in pairing dark music with the plot's "citywide conspiracy of lethal corruption." I found this disc to possess a mixed bag of features: a few truly enjoyable pieces, a great many "okay" ones, but having a few terrible works.
On this soundtrack album, the best track is undoubtedly the third: "Bad Brother," performed by The Infidels and featuring Juliette Lewis. After listening to this song just once, you'll want to play it at 100 decibels while cruising down the highway. (Radio DJs yearning to play this will have to monitor the song's beginning and end for content.) Another enjoyable song was a remix of Stabbing Westward's "Waking Up Beside You." Perhaps too moody for those of the top-40 persuasion, someone who leaned toward industrial or moodier dancehall would do well to spin this tune. Filled with great ambience, guitars, and a drum machine, this is more great driving music.
More straight-ahead techno lies with The Crystal Method and a mix of "Now Is The Time." Similar in feel to early-to-mid nineties rave-friendly tunes, and with a relatively "big name" artist behind this track, expect to hear this kinetic work at your friendly neighborhood dancehall or club. Similarly, an experimental, yet strangely danceable track lies with Sin's "Painful." It emotes smoke-and-laser-filled, underground parties. Crazy synths reminiscent of Depeche Mode fill the musical space beside overdriven guitars. Yummy.
The fifth and sixth tracks are probably the most commercial and radio-friendly. Hole's cover of Bob Dylan's "It's All Over Now Baby Blue" will probably be heard on all major-market top-40 stations as the movie approaches release. Is it any good? Well, it's Dylan. Similarly, "What You Want," by the Flys, is straight-ahead rock with a standard compression and distortion put on the lead vocals [translation: similar to that Rob Thomas vocal effect in "Smooth"]. The song is rather formulaic, but listenable. It even has a bridge into a couple verses of white-boy-rocker rap. If you like the beats of Rage Against the Machine, but don't like those lyrics' intelligence or content, this song's for you!
Notable for its mediocrity, the Kid Rock tune "Warm Winter" bored me greatly. Also wasting valuable CD space is a study in a contrast that doesn't work. Its lyrics are inconsequential in nature, seemingly suited for a pop or punk/pop work. Instead, the texture of Pitchshifter's "Everything Sucks (Again)" is dark and techno-pop in its feel. The incongruity truly sticks out and prevents enjoyment of the song.
On the whole, I found that this soundtrack had more listenable tunes than "where's the remote" songs. However, I wouldn't go as far as to call this a "must buy." No piece of music on this album truly stands out on its own, unlike, say, the first Crow soundtrack. If you have some extra bucks though, and are a fan of murky, powerful, angry music, listen to a couple tracks and decide for yourself. As for myself, I'd give it three out of five stars.
Missing Information?
If any information appears to be missing from this page, contact us and let us know!