Soundtrack Information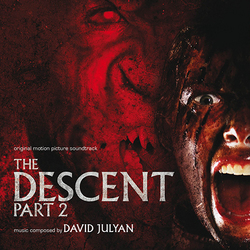 The Descent: Part 2
MovieScore Media (MMS-10001)
Release Date: December 14, 2009
Format: Digital
Music From
Purchase Soundtrack
Track Listing
| | | |
| --- | --- | --- |
| 1. | Mountain Opening | 0:54 |
| 2. | Sarah Freaks Out | 3:31 |
| 3. | What Happened | 1:55 |
| 4. | Cath and the Crawler | 2:54 |
| 5. | Drive to Chapel Mine | 1:08 |
| 6. | Exploring the Mine | 3:13 |
| 7. | Pursuing Vaines | 3:36 |
| 8. | Cath Is Trapped | 2:16 |
| 9. | Attack and Fall | 2:31 |
| 10. | Alone in the Cave | 1:10 |
| 11. | Juno Returns | 1:40 |
| 12. | Rios Leaves a Message | 2:09 |
| 13. | The Pit | 3:50 |
| 14. | The Rock Bridge | 3:05 |
| 15. | The Feeding Chamber | 2:58 |
| 16. | The Descent: Part 2 | 4:03 |
| | Total Album Time: | 40:53 |
From the Manufacturer
Composer David Julyan returns to the claustrophobic mines of the hugely successful 2005 horror film The Descent and develops the ominous and powerful musical landscape he created for the first film. The Descent scores are both great examples of Julyan's very ambitious and detailed meld of acoustic and electronic music and the second score is exciting in its use of modern, aleatoric techniques within the orchestra in conjunction with eerie "under-your-skin" sound design.
Anyone who enjoyed the score for the first Descent movie will undoubtedly love the music for Part 2.
Missing Information?
If any information appears to be missing from this page, contact us and let us know!