Soundtrack Information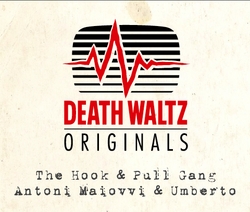 The Hook & Pull Gang
Limited Edition of 800 Copies
Death Waltz Originals (DWo01)
Release Date: September 20, 2014
Format: Vinyl
Music From
Music By
Track Listing
Track listings not available for this album. If you have the track listing information, please e-mail it to us at
mail@soundtrack.net
(including the lengths of each track, if known).
From the Manufacturer
The debut release on Death Waltz Originals is not only a brand new recording from Umberto & Antoni Maiovvi entitled 'The Hook & Pull Gang' but also doubles as a brand new re-score of the notorious classic The Texas Chain Saw Massacre.
The double album comes on coloured swirl vinyl and will be released at Mondo-Con and Beyond Fest 2014.
This release is limited to 800 copies worlldwide
Missing Information?
If any information appears to be missing from this page, contact us and let us know!