Soundtrack Information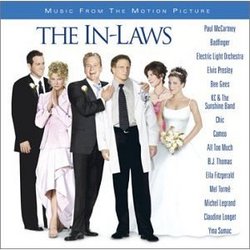 The In-Laws
Bulletproof Entertainment (R2 73886)
Release Date: May 20, 2003
Format: CD
Music From
Purchase Soundtrack
Track Listing
1.
"A Love For You" - Paul McCartney
2.
"No Matter What" - Badfinger
3.
"Don't Bring Me Down" - Electric Light Orchestra
4.
"Live And Let Die" - Paul McCartney
5.
"It's Now Or Never" - Elvis Presley
6.
"Wedding Day" - Bee Gees
7.
"I'm Carrying" - Paul McCartney
8.
"Get Down Tonight" - KC & The Sunshine Band
9.
"Good Times" - Chic
10.
"Cameo" - Word Up
11.
"More Than A Friend" - All Too Much
12.
"Raindrops Keep Fallin' On My Head" - B.J. Thomas
13.
"Sunshine Of Your Love" - Ella Fitzgerald
14.
"Too Close For Comfort" - Mel Tormé
15.
"Di-Gue-Ding-Ding" - Michel Legrand
16.
"A Man And A Woman (Un Homme Et Une Femme)" - Claudine Longet
17.
"Gopher Mambo" - Yma Sumac
Track lengths not available for this album. If you have track length/time information for this album, please e-mail it to us at mail@soundtrack.net and we will add it to the database.
Review: In-Laws, The
by Dan Goldwasser
May 15, 2003
3 / 5 Stars
The In-Laws is a remake of the 1979 Peter Falk / Alan Arkin film. This one stars Albert Brooks and Michael Douglas, and while the score was written by Lalo Schifrin, the soundtrack album is filled with an hour of enjoyable pop songs that pepper the film. Most (if not all) of the songs are of a celebratory nature, or at least invoke that happy feeling.
With some unreleased tunes by Paul McCartney (including an alternate rendition of "Live and Let Die"), the album also includes a dash of Elvis, the Bee Gees, KC & The Sunshine Band, Mel Torme, Yma Sumac, and more. Overall, it's a solid hour of music that is sequenced in such a way that the songs seem to flow nicely from one to the other, and the listener never seems jolted.
This album has a little something for everyone - and if you enjoyed the music in the film, I'm sure you'd enjoy this soundtrack. It's just a shame that there are no tracks from Schifrin's score here, but I suppose that's just part of the trend.
Missing Information?
If any information appears to be missing from this page, contact us and let us know!