Soundtrack Information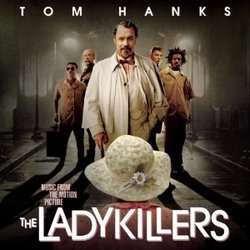 The Ladykillers
Columbia Records (CK 90896)
Release Date: March 23, 2004
Formats: CD, Digital
Music From
Purchase Soundtrack
Track Listing
| | | |
| --- | --- | --- |
| 1. | Come, Let Us Go Back To God (The Soul Stirrers) | 2:50 |
| 2. | Trouble Of This World (Coming Home) (Nappy Roots) | 3:48 |
| 3. | Let Your Light Shine On Me (The Venice Four with Rose Stone and The Abbot Kinney Lighthouse Choir) | 6:43 |
| 4. | Another Day, Another Dollar (Nappy Roots) | 3:48 |
| 5. | Jesus I'll Never Forget (The Soul Stirrers) | 2:34 |
| 6. | Trouble In, Trouble Out (Nappy Roots) | 4:03 |
| 7. | Trouble Of This World (Bill Landford & The Landfordaires) | 2:44 |
| 8. | Come, Let Us Go Back To God (Donnie McClurkin) | 4:33 |
| 9. | Weeping Mary (Rosewell Sacred Harp Quartet) | 2:39 |
| 10. | Sinners (Little Brother) | 4:25 |
| 11. | Troubled, Lord I'm Troubled (Bill Landford) | 2:57 |
| 12. | You Can't Hurry God (Donnie McClurkin) | 2:24 |
| 13. | Any Day Now (The Soul Stirrers) | 2:27 |
| 14. | Trouble Of This World (Rose Stone with The Venice Four and The Abbot Kinney Lighthouse Choir) | 2:25 |
| 15. | A Christian's Plea (Claude Jeter And The Swan Silvertones) | 2:21 |
| 16. | Let Your Light Shine On Me (Blind Willie Johnson) | 3:07 |
| 17. | Let The Light From The Lighthouse Shine On Me (The Venice Four with Rose Stone and The Abbot Kinney Lighthouse Choir) | 1:42 |
| 18. | Yes (The Abbot Kinney Lighthouse Choir featuring Kristle Murden) | 5:30 |
| | Total Album Time: | 61:00 |
Review: Ladykillers, The
by Rafael Ruiz
May 30, 2004
3 / 5 Stars
The Coen Brothers continue to walk that razor edge of mainstream filmmaking and independent sensibility. Again they return to their comic-noir roots and revisit the Earling Studio's 1955 classic black comedy that starred Alec Guiness, James Mason and some upcoming comedian named Peter Sellers as thieves who commit the perfect crime. However the only thing that stands in their way is a seemingly helpless widow. Thus, they must "do her in."
Here the Coen Brothers transplant the caper to the Louisiana bayou replete with southern gentlemen and riverboats. What this locale change really alters is the "lady" of the title. Instead of a timid British woman, she becomes a brass churchgoer played with gusto by Irma P. Hall. She's a no-nonsense woman who doesn't stand for any misbehaving, especially by anybody who listens to rap or the "hippity hop" as she calls it.
The soundtrack is based almost entirely around her, allowed the Coen Brothers to return to the musical genres they previously explored in Oh Brother, Where Art Thou with producer T-Bone Burnett. One could easily assume it is simply a thinly veiled attempt to recapture the glory of the Oh Brother, Where Art Thou? soundtrack was a success in its own right.
Thankfully this album holds it's own. Ladykillers has less of the bluegrass/folk mixture of Oh Brother and Cold Mountain and focuses more on the broad spectrum of Gospel music.
The clever tactic of the album is to cover the same gospel tunes in several different eras. One track will have some of classic gospel's best such as Soul Spinners, Bill Landford & The Landfordaires and Blind Willie Johnson (with some fantastic bottleneck slide guitar work in "Let Your Light..."). The other versions are covered by a rising gospel group or rapper. "Come, Let Us Go Back to God" and Let Your Light Shine on Me" are used twice while "Trouble of This World" is three times. This may sound disjointed, but Burnett chooses tracks that have a strong thematic connection to the original gospel, either in lyrics or the rousing samples from the original songs laid in ("A Christian's Plea" is revisited as a sample in "Sinner"). Southern flavored rap group The Nappy Roots contributes three sharp ironic tracks (the best of which being "Another Day, Another Dollar"). On the other end of interpretation, Donnie McClurkin sticks to the original approach of "Come, Let Us Go Back to God" with a slow mellow revival groove.
This creates a delicate balance is created between these styles, providing the listener a through line stretching across over 50 years of urban music, revealing the unlikely roots of one genre in an older one. And in result provides a toe-tapping treat for fans of Gospel and eclectic music.
Missing Information?
If any information appears to be missing from this page, contact us and let us know!