Soundtrack Information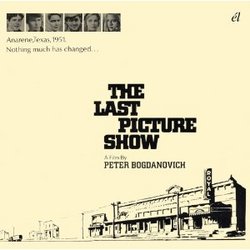 The Last Picture Show
Release Date: May 22, 2012
Format: CD
Music From
Purchase Soundtrack
Track Listing
1.
WHY DON'T YOU LOVE ME (LIKE YOU USED TO DO) (Hank Williams)
2.
COLD, COLD HEART (Hank Williams)
3.
BOUQUET OF ROSES (Eddy Arnold)
4.
HEY, GOOD LOOKIN' (Hank Williams)
5.
ROSE, ROSE, I LOVE YOU (Frankie Laine)
6.
SLOW POKE (Pee Wee King)
7.
ANYTHING THAT'S PART OF YOU (Eddy Arnold)
8.
A FOOL SUCH AS I (Hank Snow)
9.
SHRIMP BOATS (Jo Stafford)
10.
COLD, COLD HEART (Tony Bennett)
11.
THE THING (Phil Harris)
12.
LOVESICK BLUES (Hank Williams)
13.
THE WILD SIDE OF LIFE (Hank Thompson)
14.
KAW-LIGA (Hank Williams)
15.
PLEASE, MR. SUN (Johnnie Ray)
16.
GIVE ME MORE, MORE OF YOUR KISSES (Lefty Frizzell)
17.
HALF AS MUCH (Hank Williams)
18.
WISH YOU WERE HERE (Eddie Fisher)
19.
SOLITAIRE (Tony Bennett)
20.
WHEEL OF FORTUNE (Kay Starr)
21.
BLUE VELVET (Tony Bennett)
22.
YOU BELONG TO ME (Jo Stafford)
23.
MY SON CALLS ANOTHER MAN DADDY (Hank Williams)
24.
CAN'T HELP IT (IF I'M STILL IN LOVE WITH YOU) (Hank Williams)
25.
BACK STREET AFFAIR (Webb Pierce)
26.
FADED LOVE (Bob Wills And His Texas Playboys)
27.
JAMBALAYA (ON THE BAYOU) (Hank Williams)
28.
IT'S IN THE BOOK (Johnny Standley)
Track lengths not available for this album. If you have track length/time information for this album, please e-mail it to us at mail@soundtrack.net and we will add it to the database.
Missing Information?
If any information appears to be missing from this page, contact us and let us know!