Soundtrack Information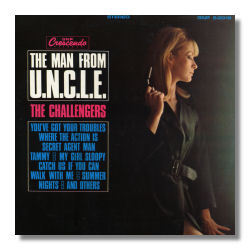 The Man from U.N.C.L.E.
GNP Crescendo (DOD 2018)
Release Date: June 23, 2009
Performed by
The Challengers
Formats: CD, Digital, Vinyl
Purchase Soundtrack
Track Listing
1.
THE MAN FROM U.N.C.L.E.: The Man from U.N.C.L.E.
2.
Walk With Me
3.
You've Got Your Troubles
4.
Everything to Me
5.
DANGER MAN: Secret Agent Man
6.
HAVING A WILD WEEKEND: Catch Us If You Can
7.
The Streets of London
8.
TAMMY: Tammy
9.
WHERE THE ACTION IS: Action
10.
How Could I?
11.
My Girl Sloopy
12.
Summer Nights
13.
Kiiroi Remon (Previously unreleased bonus track)
14.
Namiade O Furtare (Previously unreleased bonus track)
Track lengths not available for this album. If you have track length/time information for this album, please e-mail it to us at mail@soundtrack.net and we will add it to the database.
Missing Information?
If any information appears to be missing from this page, contact us and let us know!