Soundtrack Information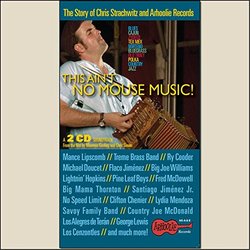 This Ain't No Mouse Music!
Release Date: October 21, 2014
Format: CD
Music From
Purchase Soundtrack
Track Listing
Disc 1: This Ain't No Mouse Music!
1.
Bald Headed Woman
2.
Barbershop Rhythm
3.
I Want to Live and Love
4.
I'm Working on a Building
5.
Tom Moore's Farm
6.
Lady Luck
7.
Mercury Blues (Mercury Boogie)
8.
Write Me a Few of Your Lines
9.
Wade in the Water
10.
Sloppy Drunk Blues
11.
I Feel Like I'm Fixin' to Die Rag
12.
Mama Don't Allow
13.
The Shiner Song
14.
La Reel de Barza
15.
Malinda
16.
Bosco Stomp
17.
Burgundy St. Blues
18.
Creole Belles
19.
Over the Waves
20.
Big Fat Woman
Disc 2: This Ain't No Mouse Music!
1.
Fiddle Two-Step
2.
Two-Step de Amede
3.
Two-Step de Amede
4.
Bye Bye Mo Neg
5.
Los Ojos de Pancha
6.
Nuestro Amor
7.
Un Mojado Sin Licencia
8.
Mal Hombre
9.
En Cada Vida Hay un Momento
10.
La Tumba Sera el Final
11.
Let's Have a Ball
12.
Flor de Capomo
13.
Golden Slippers
14.
Ruby
15.
Grayson County Blues
16.
Pine Grove Blues
17.
Oh, Franklin!
18.
Just a Little While / When the Saints Go Marching In
Track lengths not available for this album. If you have track length/time information for this album, please e-mail it to us at mail@soundtrack.net and we will add it to the database.
Missing Information?
If any information appears to be missing from this page, contact us and let us know!