Soundtrack Information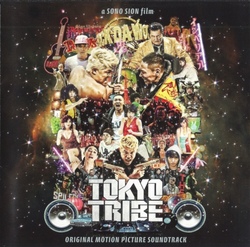 Tokyo Tribe
Release Date: August 27, 2014
Format: CD
Music From
Purchase Soundtrack
Track Listing
1.
Hope / Tokyo Tribe Anthem
2.
Ode To Tokyo Tribe
3.
Risin Tribes (Part 1)
4.
Musashino State Of Mind
5.
Rising Tribes (Part 2)
6.
Big City Of Dreams
7.
The Notorious Bubba
8.
Red Room Madness
9.
Lost In Saga (Instrumental)
10.
Blaze Of Fury
11.
South Island Musashino (Instrumental)
12.
Deadly On Bukuro Street
13.
Here Comes The Killer (To Rock This Town)
14.
The Great Priest (Intrumental)
15.
Code Of The Waru
16.
Tribes Explosion
17.
Merra-N-Cholic (Instrumental)
18.
Fight For Tokyo
19.
Ode To Tokyo Tribe (Interlude)
20.
Battle Park Tokyo
21.
If I Take The Crown
22.
Hope / Tokyo Tribe Anthem (Tribes United Version)
23.
Musashino State Of Mind (Interlude)
24.
Bonds Don't Break
Track lengths not available for this album. If you have track length/time information for this album, please e-mail it to us at mail@soundtrack.net and we will add it to the database.
Missing Information?
If any information appears to be missing from this page, contact us and let us know!