Soundtrack Information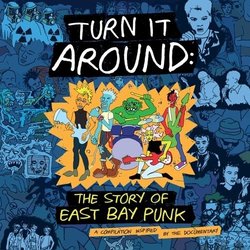 Turn It Around: Story Of East Bay Punk
Release Date: July 6, 2018
Format: Vinyl
Purchase Soundtrack
Track Listing
Disc 1: Turn It Around: Story Of East Bay Punk
1.
SIDE A: Another Day (Crimpshrine)
2.
I Wanna Be on TV (Fang)
3.
Thoughts of War (Christ on Parade)
4.
Berkeley Hardcore (Special Forces)
5.
Be All You Can Be (Corrupted Morals)
6.
United Sheep (Neurosis)
7.
Wally and the Beaver Go to Nicaragua (Sewer Trout)
8.
Mendocino Homeland (Lookouts)
9.
Hippie Man (Isocracy)
10.
Control (Soup)
11.
SIDE B: Sweet Children (Demo) (Sweet Children)
12.
Gilman Street (The Mr. T Experience)
13.
She's from Salinas (Sweet Baby)
14.
Pacifica on Saturday (Kwik Way)
15.
Back to Bodie (Kamala & the Karnivores)
16.
Equalized (J Robbins Mix) (Jawbreaker)
17.
Summertime (Crimpshrine)
18.
Hedgecore (Gilman Demo) (Operation Ivy)
Disc 2: Turn It Around: Story Of East Bay Punk
1.
SIDE C: Unity (Operation Ivy)
2.
The List (Filth)
3.
Berkeley Is My Baby (And I Wanna Kill It) (Blatz)
4.
Epidemic (Econochrist)
5.
Sexism Impressed (Spitboy)
6.
Yeast Power (The Yeastie Girls)
7.
Dragonfly (Brouhaha Version) (Nuisance)
8.
Firecracker (Monsula)
9.
Losers of the Year (Pinhead Gunpowder)
10.
SIDE D: Luv Luv Luv (Pansy Division)
11.
On the Avenue (The Potatomen)
12.
Condition Oakland (Jawbreaker)
13.
I'm Telling Tim (Nofx)
14.
Journey to the End of the East Bay (Rancid)
15.
Welcome to Paradise (Kerplunk) (Green Day)
16.
If There Was Ever a Time (Armstrongs)
Track lengths not available for this album. If you have track length/time information for this album, please e-mail it to us at mail@soundtrack.net and we will add it to the database.
Missing Information?
If any information appears to be missing from this page, contact us and let us know!