Soundtrack Information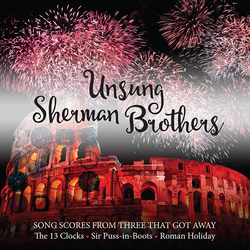 Unsung Sherman Brothers: Song Scores from Three that Got Away
Limited Edition of 1,000 Copies
Kritzerland (KR 20031-5)
Release Date: November 18, 2016
Format: CD
Music By
Purchase Soundtrack
Track Listing
1.
THE 13 CLOCKS: The 13 Clocks
2.
Ten Minutes to Nine
3.
Day by Beautiful Day
4.
Little Minor Miracle
5.
From the Guggle to the Zatch
6.
Where is Tomorrow?
7.
How Free Would I Be?
8.
If You Don't Ask Questions
9.
I'll March to My Own Drum
10.
Hagga's Lament
11.
Saralinda
12.
The Time Has Come
13.
SIR PUSS-IN-BOOTS (Selections): Puss-in-Boots (Sammy Davis, Jr.)
14.
Rhythm of the Road (Sammy Davis, Jr.)
15.
Ogre Song (Karl Malden)
16.
Dawning Sun (Prince and Princess)
17.
People Are Similar (Sammy Davis, Jr.)
18.
Birthday Song (The Children)
19.
Lungemore Lancewellington (Sammy Davis, Jr.)
20.
Ogre Beans (Karl Malden and Jinny Tyler)
21.
Puss-in-Boots (Finale) (Sammy Davis, Jr.)
22.
BONUS TRACKS: Rhythm of the Road (Sammy's version) (Sammy Davis, Jr.)
23.
People Are Similar (Sammy Davis, Jr., Prince, Princess) (trio version)
24.
Birthday Song (Prince, Princess, Children)
25.
ROMAN HOLIDAY: The Bells of Roma
26.
So Simpatico (vocal by Lisa Livesay and Robert Yacko)
27.
We'll Still Have Rome (vocal by Lisa Livesay and Robert Yacko)
Track lengths not available for this album. If you have track length/time information for this album, please e-mail it to us at mail@soundtrack.net and we will add it to the database.
From the Manufacturer
By the late 1960s, the songwriting team known as the Sherman Brothers was already legendary. So, it's hard to imagine that starting in 1969 three exciting new Sherman Brothers projects were all cancelled, one after another. And these projects were heartbreakers for "the boys" (as Walt Disney called them), three that got away. But now Kritzerland is proud to bring these three song scores to you for the very first time!
For The 13 Clocks, they wrote a delightful score, but then Warner was purchased by the Kinney conglomerate and the project was cancelled. Happily they'd made a demo of their song score, orchestrated by Don Ralke, sung by the Don Ralke singers and guest singer Fred Darian. The score they wrote is classic Sherman Brothers, filled with their trademark hummable tunes and wordplay.
For Sir Puss-in-Boots, they created an original musical that would, in the brothers' words, "borrow a little bit of mythology from every fairy tale we could think of." They titled it Sir Puss-in-Boots. They assembled an amazing voice cast for the film: Sammy Davis, Jr., Karl Malden, comedian Jack Carter, Jinny Tyler, and English radio host, Michael Jackson. Everything was going well until the money ran out. And so, the second project was cancelled. Again, thankfully, a demo recording was made, with several of the voice actors singing their songs, including Sammy Davis, Jr., Karl Malden, and Jinny Tyler. And again, the brothers' songs are toe tapping, tuneful wonders.
Roman Holiday was a musical update of the classic film. They wrote three songs to play for producer Dino De Laurentiis. He loved the songs and the project was a go – until the day the studio pulled the plug. And that was the third cancelled project. But while the project was still a go, the brothers had the great good fortune of having the brilliant conductor, arranger, and orchestrator, Irwin Kostal, do orchestral recordings of the three songs. But before vocals could be put on them, the ax fell. For this CD, we took those three orchestral tracks and brought in singers to record the vocals all these years later.
Missing Information?
If any information appears to be missing from this page, contact us and let us know!