Soundtrack Information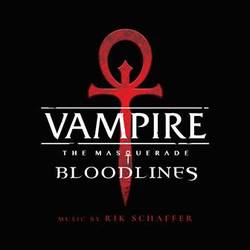 Vampire: The Masquerade - Bloodlines
Release Date: October 25, 2019
Format: Digital
Music By
Track Listing
1.
Bloodlines Main Theme
2.
Hollywood Main Theme
3.
Wolf Spirit Map
4.
Disturbed Combat
5.
Santa Monica Theme
6.
Chinatown Theme
7.
China Boss Battle
8.
Nosferatu Warrens
9.
Downtown Theme
10.
Disturbed and Twisted
11.
Disturbed and Twisted Combat
12.
Edward's Theme
13.
Crypts Combat
14.
Moldy Old World
15.
Dark Asia
16.
The Prince's Dream
17.
All That Could Ever Be
18.
Main Theme Aggro Mix
19.
Mission Impossible
20.
Creepy Ambiance 2
21.
Mission Impossible Combat
22.
Crypts
23.
Sewer Enter Lair
Track lengths not available for this album. If you have track length/time information for this album, please e-mail it to us at mail@soundtrack.net and we will add it to the database.
Missing Information?
If any information appears to be missing from this page, contact us and let us know!