Soundtrack Information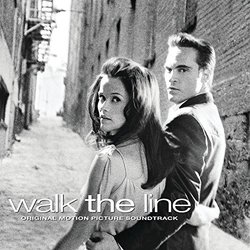 Walk the Line
Wind-up Records (60150-13109-2)
Release Date: November 15, 2005
Formats: CD, Digital
Music From
Purchase Soundtrack
Track Listing
| | | |
| --- | --- | --- |
| 1. | Get Rhythm (Joaquin Phoenix) | 2:26 |
| 2. | I Walk The Line (Joaquin Phoenix) | 3:20 |
| 3. | Wildwood Flower (Reese Witherspoon) | 2:31 |
| 4. | Lewis Boogie (Waylon Malloy Payne) | 2:01 |
| 5. | Ring Of Fire (Joaquin Phoenix) | 3:42 |
| 6. | You're My Baby (Joaquin Phoenix) | 2:12 |
| 7. | Cry Cry Cry (Joaquin Phoenix) | 2:35 |
| 8. | Folsom Prison Blues (Joaquin Phoenix) | 2:52 |
| 9. | That's All Right (Tyler Hilton) | 1:46 |
| 10. | Juke Box Blues (Reese Witherspoon) | 2:15 |
| 11. | It Ain't Me Babe (Joaquin Phoenix and Reese Witherspoon) | 3:05 |
| 12. | Home Of The Blues (Joaquin Phoenix) | 2:40 |
| 13. | Milk Cow Blues (Tyler Hilton) | 2:19 |
| 14. | I'm A Long Way From Home (Shooter Jennings) | 2:15 |
| 15. | Cocaine Blues (Joaquin Phoenix) | 2:50 |
| 16. | Jackson (Joaquin Phoenix and Reese Witherspoon) | 2:49 |
| | Total Album Time: | 41:38 |
Review: Walk the Line
by Matthew Sheby
November 21, 2005
4 / 5 Stars
Welcome to "Celebrity Karaoke" - for how else would one describe a Johnny Cash / June Carter / Jerry Lee Lewis / Elvis Presley / Waylon Jennings / Roy Orbison album featuring none of the aforementioned vocalists, but rather those playing them? In Walk the Line, Cash and Carter are played by actors who had to learn to sing. Interestingly enough, the remainder of the film\'s secondary singers were portrayed on screen by contemporary singers, who (in theory) would have had to learn to act. Though purists might hear of this album and scoff at the idea of not purchasing an album by the genuine Man in Black, we are not purist Johnny Cash fans here at SoundtrackNet. In fact, probably the only Cash tune heard here from beginning through end was his cover of Trent Reznor\'s "Hurt" at the denouement of his career. Having said all that, we have not yet answered the question "Is the album any good?" Yes, it does, and it stands strongly on its own.
How are the singer/actors? Joaquin Phoenix has a tremendous baritone, a sonorous and majestic voice. He harmonizes nicely with Reese Witherspoon\'s husky Nashville twang. Shooter Jennings mournfully sings his father\'s "I\'m a Long Way From Home," perhaps the best of the tracks. Waylon Malloy Payne and Johnathan Rice both rock their respective tracks. Tyler Hilton, too, skillfully invokes two Elvis numbers, "That\'s All Right" and "Milk Cow Blues." He had to perform the most difficult job on the soundtrack, as pop culture is oversaturated with Elvis impersonators. So one does not only compare his performance with that of the authentic Presley, but with those of Elvis\'s imitators as well.
The backing band that T Bone Burnett assembled for the recording sessions is certainly excellent. On at least two tracks ("I Walk the Line," "Ring of Fire"), there seem to my untrained ear to be long bars of music where all vocals drop out, letting the instrumentalists take their due. Additionally, the CD contains QuickTime video of two performances from the film. One is Phoenix doing "Rock \'N Roll Ruby" and the other is a duet between him and Reese Witherspoon on "Jackson." Both of these are nice touches to fans of the film\'s music.
The highlights of the soundtrack album include Jennings on "I\'m a Long Way From Home," Phoenix on "Ring of Fire," "Cocaine Blues," and his knockout duet with Witherspoon on "It Ain\'t Me Babe." If more singers could work the transition to actor as magnificently as these actors have themselves become singers, the world of television and film would be much enriched. Yes, the world could have been spared Glitter. No vanity project this, the Walk the Line soundtrack is well worth a listen.
Soundtrack.Net Articles
Missing Information?
If any information appears to be missing from this page, contact us and let us know!