Soundtrack Information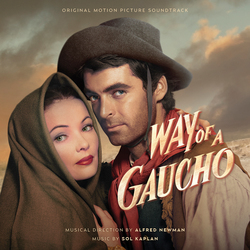 Way of a Gaucho
Release Date: May 1, 2018
Format: CD
Music From
Music By
Track Listing
| | | |
| --- | --- | --- |
| 1. | Way of a Gaucho | 3:12 |
| 2. | The Coach | 1:13 |
| 3. | La Huella Huella (Felix Palorma-Philip Dunne) | 1:08 |
| 4. | Prisoner March | 1:15 |
| 5. | The Major / The Indians | 0:45 |
| 6. | Rescue of Teresa | 3:47 |
| 7. | The Lovers | 1:05 |
| 8. | Return to the Estancia | 7:55 |
| 9. | Ride to the Fort | 1:17 |
| 10. | On the Ground | 2:02 |
| 11. | The Knife | 2:29 |
| 12. | The Army | 1:23 |
| 13. | The Gauchos | 1:02 |
| 14. | Chapel | 1:42 |
| 15. | The Hill | 1:33 |
| 16. | Valverde | 0:29 |
| 17. | Anoranza India (Hugo Echave) | 1:51 |
| 18. | Teresa | 0:41 |
| 19. | The Gauchos Ride | 2:22 |
| 20. | La Varguista (Palorma) | 3:06 |
| 21. | Martín | 0:57 |
| 22. | Falcon's Grave | 5:47 |
| 23. | Cathedral | 1:02 |
| 24. | Salinas | 2:47 |
| 25. | Miguel | 2:48 |
| 26. | Remorse and Finale | 0:24 |
| 27. | ADDITIONAL MUSIC: Missa Et Absolutio Pro Defunctis / In Paradisum (Traditional, arr. Roger Wagner) | 3:54 |
| 28. | La Huella Huella (Reprise) (Palorma-Dunne) | 0:42 |
| 29. | "Norte" and "Sur" (Palorma) | 3:38 |
| 30. | Gaucho Amigo (Palorma) | 3:02 |
| 31. | La Huella Huella (Guitar) (Palorma) | 0:52 |
| | Total Album Time: | 66:10 |
From the Manufacturer
Once again, Counterpoint mines the rich musical archives of Twentieth Century-Fox to unearth a dramatic, romantic gem by Sol Kaplan. Way of a Gaucho (1952) is a story that blends elements of the American West with the wild and untamed scenery of the Argentinian pampas. Filmed partially on location in Argentina, the picture stars Rory Calhoun as a young freedom-loving gaucho who finds himself out of step with encroaching central government and civilization. Gene Tierney appears as his love interest; Richard Boone, recently returned from Australia where he filmed the Kaplan-scored Kangaroo (Counterpoint CPT-1005), plays the army major who is determined to bring Calhoun's outlaw character to justice.
As with Kangaroo, Kaplan's score is conducted with fire and passion by legendary Fox music head Alfred Newman. The music bears traces of Newman's influence but it also stands very much on its own as a unique blend of original Kaplan and authentic Argentinian music. To ensure that the film not only looked but also sounded authentic, the filmmakers chose Argentinian folk artist Felix Dardo Palorma, a guitarist, singer, recording artist and composer, to contribute an original song as well as several source pieces. Kaplan seized on this native material and integrated it so well into his score that it is sometimes difficult to know where Buenos Aires ends and Hollywood begins. From the exciting main title that sets the heart racing to the poignant love theme that makes it melt, Kaplan's music runs the gamut of emotions that make Way of a Gauchoa delicious example of old-fashioned filmmaking.
This premiere release of Way of a Gaucho is complete and includes all the source music plus some cues that were not featured in the film. CD Producer Mike Matessino mastered the fine-sounding monaural audio from optical material that Fox transferred to ¼? tape in the 1980s. The 24-page booklet, designed by Jim Titus, offsets detailed notes on music and film by Frank K. DeWald with posters, film stills, publicity material and much more. Project produced by Nick Redman and Craig Spaulding
Missing Information?
If any information appears to be missing from this page, contact us and let us know!