Soundtrack Information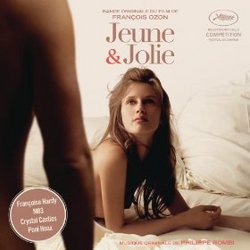 Young & Beautiful (Jeune & Jolie)
Release Date: August 19, 2013
Formats: CD, Digital
Music From
Track Listing
1.
Eté (Philippe Rombi)
2.
L'amour d'un garçon (Remastered – Les années Vogue 62-68) (Françoise Hardy)
3.
True Romance (The Citizens)
4.
Poison Lips (Vitalic)
5.
The Sense Of Me (Mud Flow)
6.
Chambre 6095 (Philippe Rombi)
7.
A quoi ça sert? (Françoise Hardy)
8.
Young Americans (Poni Hoax)
9.
Midnight City (M83)
10.
Baptism (Crystal Castles)
11.
Première rencontre (Françoise Hardy)
12.
Jeune et jolie (Philippe Rombi)
13.
Je suis moi (Françoise Hardy)
Track lengths not available for this album. If you have track length/time information for this album, please e-mail it to us at mail@soundtrack.net and we will add it to the database.
Missing Information?
If any information appears to be missing from this page, contact us and let us know!