Movie Information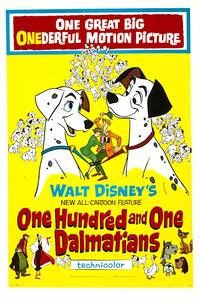 101 Dalmatians
Released: January 25, 1961
Credits
director

Clyde Geronimi

director

Hamilton S. Luske

director

Wolfgang Reitherman
Review: 101 Dalmatians (2-disc Platinum Edition DVD)
by Dan Goldwasser
February 27, 2008
3.5 / 5 Stars
Based on the best-selling novel The Hundred and One Dalmatians by Dodie Smith, Walt Disney\'s One Hundred and One Dalmatians was a successful animated film that came out in 1961. The story focuses on Pongo (voiced by Rod Taylor), a Dalmatian who decides to find a suitable mate for his "pet", aspiring songwriter Roger (voiced by Ben Wright). In the process he finds Anita (voiced by Lisa Davis), who happens to have a Dalmatian of her own, Perdita (voiced by Cate Bauer and Lisa Daniels). Soon everyone is married, and before you know it, there are 15 puppies born. Enter one of the most outlandish villains of a Disney film: Cruella de Vil (voiced by Betty Lou Gerson), an eccentric rich woman who wants to buy the puppies, but when is rebuked, decides to employ her two henchmen Jasper (voiced by J. Pat O\'Malley) and Horace (voiced by Frederick Worlock) to steal the puppies - so she can turn them into a fur coat. Once the humans have exhausted their efforts to find the puppies, the animals take over - the Pongo and Perdita use the "Twilight Bark" to alert the dogs of London, and soon the chase is on to rescue the puppies - and it turns out there are a lot more than just Pongo and Perdita\'s 15.
One Hundred and One Dalmatians was the first Disney animated feature to take place in a contemporary setting, and also the first to employ the new Xerography process, to allow the artists original drawings to be transferred directly to cells, eliminating the need for the Ink Department. Now they could go right to the colorists. The result is a somewhat different look for a Disney film, as the ink is now all in black (future technology would eventually allow for different colored ink lines), giving the animation a slightly rougher feel. Musically, there are only three songs in the film: "Cruella De Vil" is the main melody, a catchy swingin\' tune penned by Mel Leven, and "Dalmatian Plantation" (heard only briefly at the very end of the film) and the source song "Kanine Krunchies Jingle". As a result, most of the music comes from composer George Bruns, whose intricate score contains numerous themes.
One Hundred and One Dalmatians is now coming to home video as a 2-disc "Platinum Edition" release, and boasts a digitally remastered image and new home theater mix. The image is exceptionally clean, with the colors solid and pure, with deep perfect black lines and nary a hint of grain. It was not a widescreen film, and is presented in the original Academy aspect ratio. The audio is clean, but basically front-heavy. In fact, only some sound effects and music seems to employ any stereo effects, and the original mono track is included as well.
There is no feature commentary on the film, which is too bad, but to make up for that, there are instead two pop-up trivia tracks. The first one is "101 Pop-Up Trivia Tracks For The Family", which is clearly geared towards kids, with information about the story, with differences between the novel and the film highlighted, and "101 Pop-Up Trivia Tracks For The Fan", which gives more of a technical background on the film production, and I found this to be the more interesting of the two. The only other extra on the first disc is a new "Cruella De Vil" music video by 15-year old Disney pop star Selena Gomez.
The second disc is where the bulk of the supplements live, with three sections. The first, "For \'The Humans\': Backstage Disney" contains the bulk of the technical details, with the seven-part featurette "Redefining the Line: The Making of One Hundred and One Dalmatians" which runs 34-minutes. They explore the back-story of the film, including the new approach to animation employed for the film, the voice actors, the music, and more. It\'s a fairly compact but dense amount of information, and nicely presented. "Cruella De Vil: Drawn To Be Bad" is a short 7-minute featurette focusing on the most outlandish villain in a Disney film, from the inspiration to the design to the voicing. "Sincerely Yours, Walt Disney" is a 12-minute featurette in which letters between Disney and author Dodie Smith are read (through re-creations and archival photos), showing how the project was certainly done with Smith\'s tacit approval. A slew of "Trailer, Radio & TV Spots" cover all of the various releases (and re-issues) of the film, but they\'re all from some lackluster video source, which is too bad since the "Cinemascope" trailer would have been nice to have anamorphically presented. Speaking of odd aspect ratios, the "Redefining the Line" documentary is presented in a letterboxed 4:3 image. So it\'s basically a 16x9 documentary that has been downgraded, and appears boxed in on all sides on my HDTV. That\'s a shame, and it\'s the same thing that they did with the Chronicles of Narnia supplements. If you shoot supplements widescreen, why not present it as such? I don\'t understand why they did it that way. Finally, there are seven "Art Galleries" covering visual development, character designs, production, and more.
In "For \'The Humans\': Music & More", six songs are presented. Some are deleted sequences, others were abandoned songs, or just alternates and demos. They\'re all presented with visual accompaniment, whether storyboards or still frames. There\'s a lot here, including multiple versions of "Cruella De Vil", which is pretty cool.
"For \'The Dogs\': Games & Activities" contains "Disney Virtual Dalmatians" in two flavors: a "Set-Top Sampler" that gives you a sense of what it can do, and a DVD-ROM version which will let your kids play with some virtual puppies that can perform tricks and play with toys. "Puppy Profiler" lets you answer a bunch of multiple-choice questions to find out what pet would be the best match for you. "One Hundred and One Dalmatians Fun with Language Games" is clearly aimed at the youngest of viewers, with an exceptionally slow and clear narrator helping teach English words for items at home, and learning numbers in English. It\'d be great for my 3-year old niece, or people who don\'t speak English as their main language.
One Hundred and One Dalmatians has gotten an excellent restored transfer, and has probably never looked (or sounded) better. The extras are detailed and informative enough to compensate for the lack of a commentary track, and the whole thing is yet another solid package for a classic Disney animated film.
Missing Information?
If any information appears to be missing from this page, contact us and let us know!