Movie Information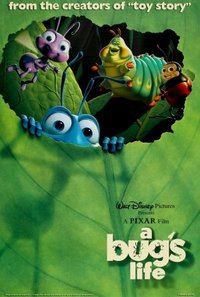 A Bug's Life
Released: 1998
Credits
director

John Lasseter

director

Andrew Stanton
Movie Purchasing Links
Review: Bug\'s Life (Blu-ray), A
by Dan Goldwasser
May 13, 2009
4.5 / 5 Stars
Loosely based on the fable of "The And and the Grasshopper", Pixar\'s second feature film (after Toy Story) was 1998\'s A Bug\'s Life.  A gang of bully grasshoppers led by Hopper (Kevin Spacey) annually steal grain from an ant colony led by the Queen (Phyllis Diller) and her daughter, Princess Atta (Julia Louis-Dreyfus).  When an inventor ant named Flik (Dave Foley) accidentally destroys the harvest - and then stands up to Hopper - Hopper punishes the collective by demanding a double ration.  Flik proposes that he go out and find "warrior bugs" to help fight off the grasshoppers, but mistakenly recruits a bunch of flea circus bugs who he thinks are warriors.  Flick and his "warriors" return to the ant colony, where a showdown with Hopper and his gang will take place - but not in the way anyone expects.  Directed by John Lasseter and Andrew Stanton, the film is both funny and dramatic, with solid writing that one could easily argue has influenced the way animated films have been developed over the past ten years.
Released as a 2-disc "Collector\'s Edition" DVD back in 2001, A Bug\'s Life now makes the much anticipated leap to Blu-ray.  Visually this is a knock-out image.  A direct-to-digital transfer allows an image that is completely free of blemishes.  While it\'s not as detailed a rendering as recent Pixar films, the image is stellar and vibrant.  Colors are saturated and contrasts crisps and dark.  The texture details are exemplary, and while the character models might seem a bit simplistic the story helps drive the film.  Audio is presented in DTS-HD Master Audio 6.1 English, and sounds absolutely immersive and clear.  There\'s a reason that sound designer Gary Rydstrom has seven Academy Awards - with no production audio, he has created a completely realistic world that these characters live in.  Reference quality for sure! Randy Newman\'s musical score is whimsical and fun at times, and exciting and dramatic at others, and sounds great in this home theater mix.
The "Collector\'s Edition" DVD had over three hours of extras, and nearly all of the extras from the previous release have been carried over, a few have been dropped, and some new ones have been added.  Let\'s start by looking at what has been carried over from the previous release.  First up is the always-excellent feature-length commentary track. Directors John Lasseter and Andrew Stanton, along with supervising film editor Lee Unkrich, deliver a stand-out discussion about the challenges they face with making Pixar\'s second feature-length animated film.  If you don\'t think you know enough about the project just from this commentary, don\'t worry - there is the nearly obscene amount of supplementary material to dig into!
Also ported over are the "Pre-Production" featurettes, which include the early presentation "Fleabie Reel" (with or without intro) (SD, 3.5-minutes), a segment on "Story and Editorial" (SD, 4.5-minutes), a bunch of "Storyboard-to-Film Comparisons" (SD, 13-minutes), two "Abandoned Sequences" (SD, 5.5-minutes), and a short featurette on "Research" (SD, 4-minutes).  In "Design", we are given a pile of still galleries, which looks at the concept art, multiple locations, and numerous characters in the film.
"Production" takes a look "Behind the Scenes" (SD, 4-minutes), the "Voice Casting" (4-minutes), and some early animation tests (SD, 5.5-minutes).  We also have a "Progression Demonstration" (with intros) that allows the viewer to look at the various stages of a scene, from storyreel, to layout, to animation, to shaders and lighting.  Under "Release", we have the Posters/Ad Campaigns, and two theatrical trailers (both SD, sadly), as well as some amusing fake "Character Interviews" (SD, 2-min). "Sound Design" (HD, 13-min) features sound designer Gary Rydstrom talking about how he made the world of A Bug\'s Life come to life, with his unique approach to using real-world sounds in unconventional ways. Finally, under "Outtakes" we get a small featurette explaining the origin of the fake outtakes (SD, 3-min), then the original film outtakes (HD, 2.5-min) and a set of "Alternate Outtakes" that were included with the film\'s extended theatrical release (HD, 2.5-min). We also get the Oscar-winning short film, "Geri\'s Game" (HD, 5-minutes) to round out the "previously released" extras.
There are quite a few new extras that are exclusive to the Blu-ray set.  First up we have a new "Filmmaker\'s Roundtable (HD, 21-min) where filmmakers John Lasseter, Andrew Stanton, Darla Anderson and Kevin Reher look back at their experience with making the film, with the hindsight of ten years and tons of success under their belts.  There are some good anecdotes here, intermixed with film and archival footage.  "A Bug\'s Life - The First Draft" (HD, 10.5-minutes) is a new animated treatment of the original story that Lasseter created, with new narration by actor Dave Foley.  The original 1934 Walt Disney Silly Symphony "Grasshopper and the Ants" (HD, 8-minutes), which served as the original inspiration for the story is also included., and it\'s nice to see these older archival Disney animated shorts transferred in HD. 
Now we get to the sad part.  What\'s missing?  Well, the DVD release had two versions of the film - the widescreen, and the "re-framed" full-frame version.  While including the full-frame version on Blu-ray would be useless, there was a nice little featurette explaining why they did it in the first place, and from an archival perspective, it would have been nice to have had a small discussion about it.  Two "isolated" audio tracks (2.0 Music, and 5.1 Sound Effects) have been dropped, which is too bad, since A Bug\'s Life sounds so great, especially on Blu-ray.  But while these are missing, they aren\'t deal-breakers.
A Bug\'s Life was Pixar\'s second feature film, and while it might not look as glorious as Ratatouille and Wall-E, there is a charm to this decade-old CGI animated film that still shines through. Story is key, and if the movie could work as pencil storyboards, then it almost doesn\'t matter how it looks compared to current CGI films.  With a stellar presentation and a gargantuan serving of extras, the Blu-ray for A Bug\'s Life is well worth the upgrade and should find a deserving place in every home.
Missing Information?
If any information appears to be missing from this page, contact us and let us know!