Movie Information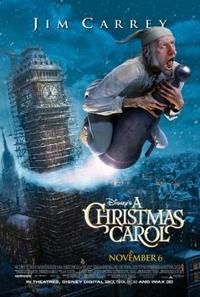 A Christmas Carol
Released: November 6, 2009
Movie Purchasing Links
Review: Christmas Carol (Blu-ray), A
by Dan Goldwasser
November 18, 2010
3.5 / 5 Stars
Charles Dickens' classic tale of redemption, A Christmas Carol, has had numerous film adaptations made over the years.  Probably the best and most revered one is 1951's Scrooge, starring Alastair Sim as the stingy curmudgeon Ebenezer Scrooge.  Last year, director Robert Zemeckis - who has eschewed traditional filmmaking techniques for motion-capture technology - brought us a new version of the holiday classic, re-imagined as a 3D "multi-sensory thrill ride".  That's a bit of a stretch, really, but this 3D animated version of A Christmas Carol, starring Jim Carrey in the lead roles of Scrooge (in all ages), and two of the Ghosts, does have a unique approach to the story - by taking us places.
Adapted by Zemeckis himself, the story is the same, but the film enjoys liberal use of the camera whizzing around through 19th Century London.  Gimmicks aside, the visual look of the film is a bit better, since the "uncanny valley" has been craftily avoided this time around through caricatured characters, instead of an attempt to make realistic humans (unlike in The Polar Express and most notably Beowulf).  The sequence with Marley's ghost is effectively dark, bringing to mind Zemeckis' work on Tales from the Crypt.  Carrey does a good job in the roles, never playing it too hammy, and his accent for Scrooge is delightfully bitter.  Smaller performances by Gary Oldman, Carey Elwes and Bob Hoskins are noteworthy, as well.  Still, I wonder what it would have been like if done in live-action 3D.
Aiding the efforts is Alan Silvestri's score, which utilizes a nice blend of classic holiday carols merged with his dramatic orchestral moments, but it's the dramatic finale involving the Ghost of Christmas Yet to Come that packs a powerful punch with full orchestra and choir.  His new main theme - reprised in the end title song sung by Andrea Bocelli - is an instant Christmas classic.  A Christmas Carol is certainly a better effort than The Polar Express, and visually looks better than Beowulf.  Still, one has to wonder why Zemeckis won't just put down the motion-capture suits and let his actors act.  When it was released in theaters, A Christmas Carol was only shown in 3D, and for good reason - it's gimmicky, but fun, and the 3D really enhances the experience.  While the film now comes to us on Blu-ray/DVD, it is in 2D (unless you're one of those fortunate few to have a 3D TV and 3D Blu-ray player, in which case you can view the film as Zemeckis intended).  It still holds up, primarily because the story itself is such a classic, but a lot of the wild camera moves and creative compositions lose a little of their luster when seen in 2D.
The 2D Blu-ray/DVD release has a small but effective number of supplements, letting the presentation dominate the disc.  From a visual standpoint, the 2D release of A Christmas Carol on Blu-ray is rock solid.  There's an intentional softness to the lighting, with deep shadows and many of the night scenes lit solely by candlelight, infusing the film with a warmth that is offset by the cold wintery locales.  Daylight scenes are bursting with detail and Victorian-era London looks quite good.  But it's the detail that emerges from the shadows and the blacks that is most impressive with this digital transfer.  Audio is presented as a DTS-HD Master Audio 5.1 English track, which provides crystal clear dialogue that stands out nicely against the fully immersive sound effects mix.  Alan Silvestri's orchestral score benefits greatly from this track, filling all the speakers during some of the more exciting moments in the film.  Beyond that, an English 2.0 Dolby Digital Descriptive Video Service track is provided, as well as French and Spanish Dolby Digital 5.1 tracks.
The Blu-ray release comes with a spattering of extras, some more interesting than not. The main highlight is "Behind the Carol: The Full Motion-Capture Experience" (HD, 96-minutes).  This plays the film with the original motion capture footage - showing the actors in their mocap suits in "the volume" - which lets you get a much stronger appreciation for the process of creating A Christmas Carol.  You can view this with the capture footage in a small window against the finished film, or enlarge it and have it full-screen.  Unfortunately you don't have an option to have the mocap footage fullscreen with the finished film in a small window.  You can watch this as well with a highly informative audio commentary by director/writer Robert Zemeckis  This is his first feature-length commentary track in years, and it shows - while there is a great amount of fascinating information and details on the process, occasionally he will just rehash what is happening on the mocap stage, and continually praise the actors performances. He also talks a bit about Alan Silvestri's music, including the new song "God Bless Us Everyone".
The remaining bonus features start out with "Capturing Dickens: A Novel Retelling" (HD, 15-minutes).  Hosted by the most overly exuberant and not-as-funny-as-she-thinks actress Jackie Barnbrook (Mrs. Fezziwig), this is a brief but well-rounded look at the adaptation of the classic Dickens novel and how they made it the most faithful representation of Dickens' vision a reality through advances in technology.  "On Set With Sammi" (HD, 2-minutes) is a very quick look at the experience that young actress Sammi Hanratty (Young Crachit Girl) went through on the motion capture shoot.  "Deleted Scenes" (HD, 8.5-minutes) show us six scenes that were cut from the final film, in a very rough stage of development.  Finally, "Countdown to Christmas Interactive Calendar" is an interactive Advent Calendar whereby as you pick the numbers in order (one for each day in December leading up to Christmas), you get a virtual "toy", and then by the end (after all 25 numbers have been picked), you have a fully decorated Christmas scene. 
No trailers or promotional material for the film is presented, nothing on the music (not even a music video), and no pre-production artwork talking about the look of the film is provided.  Oh well.  We do, however, get a "Discover Blu-Ray 3D with Timon and Pumbaa" featurette (HD, 4.5-minutes) pitching us on rebuilding our home theaters yet again to take advantage of the newest technology.
It might not be the instant-classic that the filmmakers were hoping it to become, but Robert Zemeckis' version of A Christmas Carol is probably the most faithful to the original novel, providing a visual treat that immerses the viewer in the classic tale of redemption.  A stellar presentation on Blu-ray is marred only by the lack of substantive extras.  But A Christmas Carol is definitely worth checking out if you have the opportunity to experience in a 3D presentation. Otherwise, it's recommended you rent it first before deciding to buy.
News &amp Articles
Missing Information?
If any information appears to be missing from this page, contact us and let us know!