Movie Information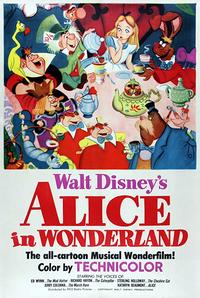 Alice in Wonderland
Released: 1951
Credits
director

Clyde Geronimi

director

Wilfred Jackson

director

Hamilton S. Luske
Review: Alice in Wonderland (60th Anniversary Blu-ray)
by Dan Goldwasser
February 2, 2011
4 / 5 Stars
Based on the classic Lewis Carroll novels Alice's Adventures in Wonderland and its follow-up Through the Looking-Glass, Walt Disney's 1951 animated feature Alice in Wonderland remains one of the studio's most disjointed projects, even sixty years after it hit theaters.  A pet project of Disney's for years before being made, Alice in Wonderland follows the exploits of young Alice (voiced by Kathryn Beaumont) after she falls down a rabbit hole and ends up in Wonderland.  There she meets a variety of unique creatures in a seemingly endless array of situations and songs.  In fact, Alice in Wonderland features the most songs of any Disney animated musical - fourteen musical numbers, to be precise.   While the novels were clearly used more as inspiration for the storyline rather than a traditional straight-up adaptation, Alice in Wonderland was clearly Disney's attempt at trying to bring a literarily challenging work to a wider audience. And he succeed - the film is entertaining and light, even when it doesn't make sense.  Classic moments - from the Mad Hatter (Ed Wynn) and his tea party, to the Queen of Hearts (Verna Felton) and her croquet game played with storks - are found in abundance in this film.  The sheer number of songs also stands out, with the film coming across more as a light opera than a musical.  It's a fun film to watch, and in time for the 60th Anniversary of its release, it comes out on Blu-ray with a new HD transfer and healthy number of extras.
I don't know who does the restoration and cleanup on the Disney animated films for HD Blu-ray releases, but they should get an award for their efforts.  Seriously, this image is perfect.  Once again, we have now yet another classic Disney animated feature that looks like it was filmed this year.  While the animation style is decidedly 'old school', there is no grain to indicate the 24-fps film rate, and every inked line is solid and colors truly vibrant and bursting off the screen.  As this was one of the earlier features released by the studio, it is presented in a windowboxed 1.33:1 aspect ratio, but "DisneyView" lets one watch it with original artwork by Michael Humphries on the sides created for various scenes that gently support the color palettes.
Audio is presented initially in a restored Dolby Digital 2.0 mono track, which has been cleaned up sufficiently enough to satisfactory recreate a very solid but center-heavy presentation. Of course, a new dynamic English DTS-HD Master Audio 5.1 track has been created for the release, and it sounds quite good. Dialogue is usually from the center channel, with sound effects and music taking up much of the sides and surrounds. The music by Oliver Wallace sounds clean and takes advance of the full audio range. Similarly, the film's 14 songs sound exceptionally clean. Considering the age of the source material, it certainly sounds quite solid, but won't hold much of a candle to recent animated films.
The supplements for Alice in Wonderland are quite extensive.  All of the material from the DVD has been included here, as well as a few new goodies for the Blu-ray.  Starting with "Backstage Disney", the new content starts with the biggest inclusion: "Through the Keyhole: A Companion's Guide to Wonderland" (HD, 76-minutes).  After a video introduction by voice actress Kathryn Beaumont, the film plays while various picture-in-picture content explores Lewis Carroll's life, his development of Alice, the history of Disney's version(s) of the film, animation production, music, song development, and so much more. It's kind of like a "Maximum Movie Mode", and more than just a normal picture-in-picture.  It's definitely a must-see item.  "Reference Footage: Alice and the Doorknob" (HD, 2-minutes) is a brief sample of some of the live-action material that was filmed for animators to use as reference, and "Pencil Test: Alice Shrinks" (HD, 1-minute) is a very rare look at an original 60-year old pencil test for a classic sequence in the film.
The "Family Play" section contains just two items. "Walt Disney Color TV Introduction (1959)" (HD, 1-minute) a never-aired introduction to the film by Walt Disney. There are two more of these introductions, in the "Classic DVD Features" section. More on that later.  The only item in this section is the interactive "Painting the Roses Red Game". Using your remote, you try to paint the Queen's roses red in a logic game where you have to toggle groupings of the flowers' colors.  Not your average kid's game, this one can be tricky!
The majority of extras are located in the "Classic DVD Bonus Features" section. "Reflections on Alice" (SD, 13-minutes) is a short look at the development of the film.  "Operation Wonderland" (HD, 11-minutes) is a newly upgraded featurette which follows Walt Disney during one of his visits to the production of the film as they were working on it.  "I'm Odd: Newly Discovered Cheshire Cat Song" (SD, 4-minutes) is a recreated version of one of the many demo songs that was not included in the final film.  "Through the Mirror: Mickey Mouse Animated Short" (HD, 8-minutes) is a classic 1936 Mickey Mouse cartoon in glorious HD in which Mickey goes through the Looking Glass and encounters all sorts of bizarre creatures.  "One Hour in Wonderland" (SD, 59.5-minutes) is a television special from 1950 hosted by Walt Disney, featuring some of the voice actors from the film, and special appearances by Edgar Bergen and Charlie McCarthy.  It's a bizarre but entertaining journey as the actors try to get a sneak peek at the film in progress.  "An Alice Comedy: Alice's Wonderland" (SD, 8-minutes) is a 1923 silent film short based loosely on the Alice story. Two "Original Theatrical Trailers" (SD, 4-minutes) are included, as well as two more of those "Walt Disney TV Introductions" (SD, 2.5-minutes), one from 1954 in B&W, and another from 1964 in color. "The Fred Waring Show (Excerpt)" (SD, 31-minutes) is a variety show hosted by bandleader Fred Waring focused on Wonderland, with songs and scenes from the film performed live. 
The "Deleted Scenes" section features "Deleted Scene: Pig and Pepper" (SD, 3-minutes), told through storyboards; "From Wonderland to Neverland: The Evolution of a Song" (SD, 7-minutes) is a rather fascinating look at a song ("Beyond the Laughing Sky") that was written for Alice in Wonderland but ended up being reworked for Peter Pan as "The Second Star to the Right"; "Deleted Storyboard Concept: Alice Daydreams in the Park" (SD, 2-minutes) shows what might have been a slightly different opening to the film; "Original Song Demos" features six demos for songs that were ultimately scrapped. Finally, there is an "Interactive Art Gallery", which features 81 high-definition artwork scans.
Alice in Wonderland is certainly one of the most disjointed animated films to come out of Walt Disney Animation.  If you check your brain at the door you're more likely to enjoy the ride, and I think that's what Disney had in mind when he adapted Lewis Carroll's stories. With a spectacular presentation on Blu-ray - as well as a bonus DVD copy of the film - and a satisfying wealth of extras, Alice in Wonderland will find a welcome home on your shelf.
News &amp Articles
Missing Information?
If any information appears to be missing from this page, contact us and let us know!