Movie Information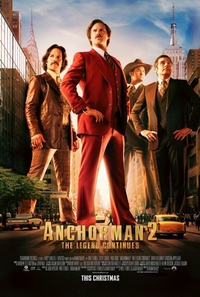 Anchorman 2: The Legend Continues
Released: December 18, 2013
Song Credits
RIDE LIKE THE WIND


Written & performed by Christopher Cross
Courtesy of Warner Bros. Records Inc.
By arrangement with
Warner Music Group Film & TV Licensing

CHARIVARI CLOWNS


Written by Daniel Janin
Courtesy of APM Music

DRIVER'S SEAT


Written by Paul N. Roberts
Performed by Snif 'N' The Tears
Courtesy of Ace Records LTD.

FRIED CHICKEN


Written & performed by Ran Galor and Gad Emile Zeitune
Courtesy of Royal Rat Music

LET IT RIDE


Written by Charles Turner and Randy Bachman
Performed by Bachman-Turner Overdrive
Courtesy of The Island Def Jam Music Group
Under license from Universal Music Enterprises

THUNDER ISLAND


Written & performed by Jay Ferguson
Courtesy of Elektra Entertainment Group
By arrangement with
Warner Music Group Film & TV Licensing

THIS IS IT


Written by Kenneth C. Loggins and Michael McDonald
Performed by Kenny Loggins
Courtesy of Columbia Records
By arrangement with Sony Music Licensing

I'D REALLY LOVE TO SEE YOU TONIGHT


Written by Parker McGee
Performed by England Dan and John Ford Coley
Courtesy of Atlantic Recording Corporation for the United States and WEA International Inc. for the world outside of the United States and Canada

DANCE THE NIGHT AWAY


Written by Eddie Van Halen, Alex Van Halen, Michael Anthony and David Lee Roth
Performed by Van Halen
Courtesy of Warner Bros. Records Inc.
By arrangement with Warner Music Group Film & TV Licensing

EVERY 1'S A WINNER


Written by Errol Brown
Performed by Hot Chocolate
Courtesy of Parlophone Records UK
By arrangement with Warner Music Group Film & TV Licensing

XANADU


Written by Jeff Lynne
Performed by Olivia Newton-John
Courtesy of Geffen Records
Under license from Universal Music Enterprises

FEELS LIKE THE FIRST TIME


Written by Michael Leslie Jones
Performed by Foreigner
Courtesy of Atlantic Recording Corp.
By arrangement with Warner Music Group Film & TV Licensing

ISOLDE'S LIEBESTOD


Written by Richard Wagner
Performed by Gregor Kniplova
Courtesy of APM Music

SHILO


Written & performed by Neil Diamond
Courtesy of Columbia Records
By arrangement with Sony Music Licensing

GENIUS OF LOVE


Written by Adrian Belew, Christopher Frantz, Steven J.C. Stanley and Tina Weymouth
Performed by Tom Tom Club
Courtesy of The Island Def Jam Music Group
Under license from Universal Music Enterprises

TRUMPET VOLUNTARY


Written by Jeremiah Clarke
Arranged by Otto Sieben
Courtesy of APM Music

MTV'S "MAN ON THE MOON"


Used with permission by MTV
Written by Jonathan Elias and John Kevin Petersen
Courtesy of Viacom Media Networks, a division of Viacom International Inc

WALTER'S SONATA


Written by Andrew Feltenstein and John Nau
Performed by John Nau

OLD MacDONALD HAD A FARM


Traditional

OLD FRIENDS


Written by Paul Simon
Performed by Simon & Garfunkel
Courtesy of Columbia Records
By arrangement with Sony Music Licensing

BROADWAY BOOGIE DOWN


Written by Andrew Feltenstein and John Nau
Featuring Anthony Brewster and Amy Keys
Performed by the Beacon Street All Stars with Anthony Brewster and Amy Keys

--end left column 1, start right column 2--

WHITE LINES (DON'T DO IT)


Written by Melvin Glover and Sylvia Robinson
Performed by Grandmaster & Melle Mel
Courtesy of Rhino Entertainment Company/Sugar Hill Records Ltd.
By arrangement with Warner Music Group Film & TV Licensing

HE'S MY BOY


Written & performed by Wayne Kramer
Featuring Sir Harry Bowens and Carl Restivo

WHAMMY CHICKEN


Written by Will Ferrell, Adam McKay, Andrew Feltenstein and John Nau
Performed by David Koechner

LOWDOWN


Written by David F. Paich and William R. Scaggs
Performed by Boz Scaggs
Courtesy of Scaggs Boz Music
By arrangement with Spirit Music Group

BABE


Written by Dennis DeYoung
Performed by Styx
Courtesy of A&M Records
Under license from Universal Music Enterprises

MUSKRAT LOVE


Written by Willis Alan Ramsey
Performed by The Captain & Tennille
Courtesy of A&M Records
Under license from Universal Music Enterprises

GHOSTBUSTERS


Written by Ray Parker

IN THE BACK, IN THE CORNER, IN THE DARK


Written & performed by Harold Land
Courtesy of Mainstream Records Group

LADY


Written by Lionel Richie
Performed by Kenny Rogers
Courtesy of Capitol Nashville Records
Under license from Universal Music Enterprises

THE GROOVE LINE


Written by Rod Temperton
Performed by Heatwave
Courtesy of SME UK Limited
By Arrangement with Sony Music Licensing

FEELS SO GOOD


Written & performed by Chuck Mangione
Courtesy of A&M Records
Under license from Universal Music Enterprises

AFTER THE LOVE HAS GONE


Written by William Champlin, David Foster and Jay Graydon
Performed by Earth, Wind & Fire
Courtesy of Columbia Records
By arrangement with Sony Music Licensing

IT MIGHT BE YOU


Written by Alan Bergman, David Grusin and Marilyn Bergman
Performed by Stephen Bishop
Courtesy of Columbia Pictures Industries, Inc.
Under license from Sony Pictures Music Group

WE LIVE FOREVER


Written by Adam McKay, Andrew Feltenstein and John Nau
Performed by Anthony Brewster & Amy Keys

LONESOME BILLY


Written & performed by Ennio Morricone and Peter Tevis
Courtesy of NBC Studios LLC

DOBY


Written by Will Ferrell, Adam McKay, Andrew Feltenstein and John Nau
Performed by Will Ferrell

ITSY BITSY SPIDER


Traditional

HOLD YOUR HEAD UP


Written by Rod Argent and Chris White
Performed by Argent
Courtesy of Columbia Records
By arrangement with Sony Music Licensing

ALL EYES ON HOLLYWOOD


Written & performed by Frederick J. Kron
Courtesy of Cinetrack Music

SPORTSCENTER THEME


Written by John Colby
Courtesy of ESPN, Inc

MIC HANDOVER


(from Anchorman: The Legend of Ron Burgundy)
Written by Alex Wurman

CHANGE


Written by Holly Knight
Performed by John Waite
Courtesy of Capitol Records, LLC
Under License from Universal Music Enterprises

JET AIRLINER


Written by Steve Miller
Performed by Steve Miller Band
Courtesy of Capitol Records, LLC
Under license from Universal Music Enterprises

WHITE LINES (re-recorded master)


Written by Melvin Glover and Sylvia Robinson
Performed by Grandmaster Melle Mel
Courtesy of Joey Robinson, Jr./SH Concerts, Inc
Trailer Music Used From
Theatrical Trailer
"Tectonic" - Danial Getz
"Retribution" Brand X Music, Vol. 15(2012) - Brand X Music
Played during the first 20 seconds of the trailer.
"Don't Stop Believin" Escape(1981) - Journey
Played in the background throughout much of the trailer.
News &amp Articles
Missing Information?
If any information appears to be missing from this page, contact us and let us know!