Movie Information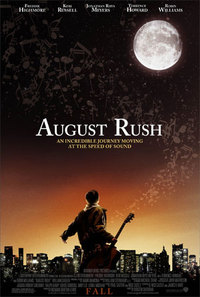 August Rush
Released: November 21, 2007
Movie Purchasing Links
Review: August Rush
by Dan Goldwasser
November 6, 2007
3 / 5 Stars
August Rush tells the story of the orphan Evan (Freddie Highmore) who has the unique ability to hear music in the world around him. The pitch of the wind. The rustle of branches. The cacophony of everyday life is music to him, and he believes that if he can express the music - and have it be heard - that he will be able to find his parents. So he runs away from the boys home where he had been raised, and escapes to New York City. Social worker Richard Jeffries (Terrence Howard) is trying to find him, and at the same time, his biological mother - renowned cellist Lyla Novacek (Keri Russell) discovers that he\'s alive (led to believe that she lost the baby in an accident by her manipulative father) and starts her search to find him. Also at the same time, former indie rocker Louis Connelly (Jonathan Rhys Meyers) starts his own search for Lyla, having had a magical night with her some 12 years previously. (The result of that night, of course, was Evan.) Alone in NYC, after a chance encounter with a child street performer, Evan begins to discover his ability to pick up any instrument and express himself through music. This catches the eye of Wizard (Robin Williams), a Fagin character who takes Evan under his wing and begins to exploit him - going so far as to make him take on a stage name. \"August Rush\", so that the authorities won\'t find him. Soon August\'s talent takes him to the halls of Juilliard, but will his abilities bring his parents together, and to him?

It\'s a touching story, one that plays to the emotions, and as they say, music is emotion. The acting is pretty solid, even though it wasn\'t entirely clear why a one-night stand had such a profound meaning in Louis that he gave up his music because he couldn\'t find Lyla. The climax of the film has no dialogue - it\'s all music, and hits all the right beats to get your tears working. Director Kirsten Sheridan has crafted a modern fable, telling the story of an orphan\'s search for his parents - but in a rather unique and musical way. Composer Mark Mancina\'s score is integral to the storyline - he wrote the main theme that August keeps \"hearing\", and ultimately composes as \"August\'s Rhapsody\". It\'s stirring, moving, and a surprisingly touching film that all audiences can enjoy and appreciate.
News &amp Articles
Missing Information?
If any information appears to be missing from this page, contact us and let us know!