Movie Information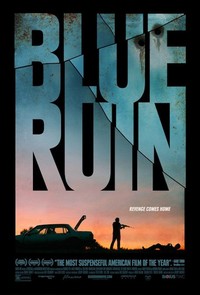 Blue Ruin
Released: April 25, 2014
Movie Purchasing Links
Song Credits
"Stunt Double"


Written by Billy Brent Malkus
Performed by The Texas Sapphires

"Moments"


Written and Performed by Herro Sugar
Courtesy of Herro Sugar, LLC

"Only We Know"


Written by Yancy Peterson
Performed by Bulletproof Moose feat. Fifty Grand
Instrumental by Suicide Studios Amun
Produced by Les Lentz

"Red Eye"


Performed by Meli Sul
Lyrics by Melanie Sullivan
Courtesy of MeliSul Ent., LLC
Musical Composition and Production by Linked-up Productions, 2011
Produced by Askari and Harps
Courtesy of MeliSuli Ent., LLC copyright 2006

"Superpower"


Performed by Birds of Avalon
Written by Birds of Avalon
Courtesy of Volcom Entertainment

"End Flux"


Written and Performed by TEARIST
Yasmine Kittles & Williams Strangeland Menchaca

"This Be The Moment"


Performed by Bulletproof Moose
Written by Yancy Peterson
Instrumental by Street Blaze
Produced by A Track Production

"Gunfighter"


Written by Jimmy Deveney
Performed by Horse Opera
Copyright © J. Deveney

"2 Pretty 4 This Picture"


Written and Performed by My New Mixtape

"Zipperbag/Stims"


Written by David Gilbert and William Lacey
Performed by Hochstedder
Courtesy of Needleteeth Records

"Fuck Up"


Written by Sam Jones
Performed by The Baseball Furies
Sam Jones, William Lacey, Ned Moffit, Sandy Barnett

"No Regrets"


Written by Otis Blackwell
Performed by Little Willie John
Courtesy of Gusto Records, Inc. and Music Sales Corporation

"Fangs"


Written and performed by She Keeps Bees
Licensed courtesy of Domino Publishing Company Ltd.
Missing Information?
If any information appears to be missing from this page, contact us and let us know!