Movie Information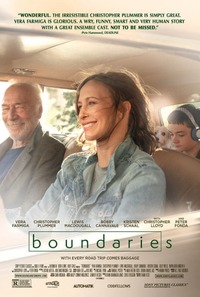 Boundaries
Released: June 22, 2018
Movie Purchasing Links
Soundrack Albums
There are no soundtrack albums in our database for this title. If this is incorrect, please contact us.
Song Credits
"I Wanna Rock Now"


Written by Floyd Dixon
Performed by Floyd Dixon
Published by Go Went Gone Music
Courtesy of Alligator Records

"Congratulations Money"


Written by Zelma Sanders
Performed by Baby Washington
Published by Zell's Music
Courtesy of Resnick Music Group

"Ritual Blessing"


Written by Michael Picton
Courtesy of APM Music

"Naked Kids"


Written by Sean Gadd, Hannah Hooper, Ryan Rabin, Christian Zucconi
Performed by Grouplove
Published by WB Music Corp.
Courtesy of Atlantic Recording Corp
By arrangement with Warner Music Group Film & TV Licensing

"I'm Glad I Knew You"


Written by Robert Dearborn
Published by Mighty Music, Renda Music
Courtesy of Mascot Records
By arrangement with Fervor Records

"All Because of You"


Written by Thomas Fletcher
Performed by Tee Fletcher
Published by Dust Index
Courtesy of The Numero Group
By arrangement with Bank Robber Music

"Un piano au soleil"


Written by Bernard Estardy, George Cokenzie
Performed by Bernard Estardy
Published by Editions Musicales Sforzando, Tele-Music
Courtesy of Strike Audio

"You'll Never Know"


Written by Michael Cozzi
Performed by Studio Musicians
Published by De Wolfe Ltd.
Courtesy of De Wolfe Music

"The Slider"


Written by Marc Bolan
Performed by T. Rex
Published by Spirit One Music on behalf of Spirit Services Holdings
Courtesy of Spirit Music Group

"Gloria"


Written by Giancarlos Bigazi, Umberto Tozzi Revor Stanley Veitch
Performed by Laura Branigan
Published by Sugar Song Publications Inc.
Courtesy of Atlantic Recording Corp
By arrangement with Warner Music Group Film & TV Licensing

"Queen of the Blossoms"


Written by Asami Tanaka
Performed by Pennybank Tunes
Published by 5 Alarm Music o/b/o Pennybank Tunes
Courtesy of 5 Alarm Music

"Break My Stride"


Written by Matthew Wilder, Gregory Prestoping
Performed by Matthew Wilder
Published by Universal Music Corp., No Ears Music, BMG Firefly
Care of BMG Rights Management LLC, Wilder Kingdom Music
Courtesy of Epic Records
By arrangement with Sony Music Licensing

"Flowers in Your Hair"


Written by Jeremy Caleb Fraites, Wesley Keith Schultz, Jason David Van Dyke
Performed by Richard Tichelman
Published by The Lumineers

"This Will Be Our Year"


Written by Chris White
Performed by The Zombies
Published by Verulam Music Co Ltd
Courtesy of Marquis Enterprises Ltd

"Hard Pill to Swallow"


Written by Koko Taylor
Performed by Koko Taylor
Published by Voodoo Woman Music Admin. by Eyeball Music
Published by Alligator Music
Missing Information?
If any information appears to be missing from this page, contact us and let us know!