Movie Information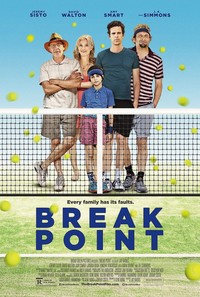 Break Point
Released: September 4, 2015
Credits
Soundrack Albums
There are no soundtrack albums in our database for this title. If this is incorrect, please contact us.
Song Credits
"Sick Shit"


Written By: William Keegan, Danny Bengston, And Erik Jimenez
Performed By together PANGEA
Courtesy Of Harvest Records

"Yellow Ledbetter"


Written By: Eddie Jerome Vedder, Jeffrey Allen Ament, Mike Mccready
Courtesy Of (C) Universal-Polygram Int. Publ., Inc. On Behalf Of Itself And Scribing C-Ment Songs (ASCAP)

"Glowing"


Written By D.A. Wallach
Performed By D.A. Wallach
Courtesy Of 4strikes, Inc,
Under Exclusive License To Harvest Records

"Bust A Move"


Written By Matt Dike, Luther Rabb, Jim Walters, Marvin Young
Performed By Young MC
Courtesy Of The Bicycle Music Company

"Aeroplanes & Possibilities"


Written By Sam Gray
Performed By Sam Gray
Courtesy Of Transmission Recordings

"What Can I Do?"


Written by Olivia Jean Markel
Performed by The Black Belles
Courtesy of Third Man Records
By arrangement with Sub Pop Licensing

"Tomorrow is Coming"


Written by John Burton Kerry
Performed by Ocha la Rocha
Courtesy of Urband Lazar Music Publishing

"Road Noise"


Written By Jordan Beckett
Performed By Bootstraps
Courtesy Of Bootstraps,
Under Exclusive License To Harvest Records

"Do It Again"


Written By Ben Ellman, Robert Joseph Mercurio, Stanton Emery Moore, Jeffrey Raines And Richard Vogel
Performed By Galactic Featuring Cheeky Blakk
Courtesy Of Anti-
By Arrangement With Sugaroo!

"Gangster"


Written By Alex Ebert, Tim Anderson, Filip Nikolic
Performed By Ima Robot
Courtesy Of Werewolf Heart Records

"Alright"


Written By James Johnston
Performed By Watts

"Lucky Dutch"


Performed By Radio Moscow
Written By Parker Griggs
Courtesy Of Alive Naturalsound Records

"Dark Times"


Written By Gideon Bensen, Jack Moffitt
Performed By The Preatures
Courtesy Of Universal Music Australia Pty Ltd.

"My Friend"


Written By Toby Leaman, Scott Mcmicken
Performed By Dr. Dog
Courtesy Of Park The Van Records
Missing Information?
If any information appears to be missing from this page, contact us and let us know!