Movie Information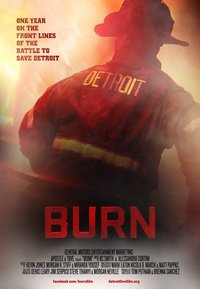 Burn
Released: November 9, 2012
Credits
director

Tom Putnam

director

Brenna Sanchez
Movie Purchasing Links
Soundrack Albums
There are no soundtrack albums in our database for this title. If this is incorrect, please contact us.
Song Credits
"GIMME DANGER"


WRITTEN BY IGGY POP AND JAMES WILLIAMSON
PERFORMED BY IGGY & THE STOOGES
COURTESY OF COLUMBIA RECORDS
BY ARRANGEMENT WITH SONY MUSIC LICENSING
PUBLISHED BY BUG MUSIC (BMI) AND STRAIT JAMES MUSIC (BMI) AND SCREEN GEMS-EMI MUSIC, INC. (BMI).
ADMINISTERED BY BUG | GMB CHRYSALIS.

"BOOM BOOM"


WRITTEN BY JOHN LEE HOOKER
PERFORMED BY JOHN LEE HOOKER
COURTESY OF VEE-JAY LIMITED PARTNERSHIP
PUBLISHED BY CONRAD MUSIC, A DIVISION OF ARC MUSIC CORP. (BMI)
ADMINISTERED BY BMG PLATINUM SONGS (BMI)

"RIVALS"


WRITTEN BY SPENCER/EXPLOSION
PERFORMED BY THE JON SPENCER BLUES EXPLOSION
COURTESY OF THE JON SPENCER BLUES EXPLOSION
PUBLISHED BY DIRTY SHIRT (BMI)

"WHOLE LOT OF BS"


WRITTEN BY GEORGE CLINTON, JR. AND BERNARD WARREN
PERFORMED BY FUNKADELIC
COURTESY OF WESTBOUND RECORDS
PUBLISHED BY BRIDGEPORT MUSIC

"ICKY THUMP"


PERFORMED BY THE WHITE STRIPES
WRITTEN BY JACK WHITE
PEPPERMINT STRIPE MUSIC (BMI)
(c) (p) THIRD MAN RECORDS, UNDER EXCLUSIVE LICENSE TO WARNER BROS. RECORDS AND XL RECORDINGS LTD.

--end left column 1, start right column 2--

"WIRED NIGHTS"


WRITTEN BY HERMAN JOLLY
PERFORMED BY SUNSET VALLEY
COURTESY OF BARSUK RECORDS
BY ARRANGEMENT WITH BANK ROBBER MUSIC

"DETROIT SUMMER"


WRITTEN BY INVINCIBLE + WAAJEED (ILANA WEAVER AND ROBERT O'BRYANT)
PERFORMED BY INVINCIBLE + WAAJEED
COURTESY OF EMERGENCE MEDIA
PUBLISHED BY INVINCILANA (ASCAP) AND BLING47 (ASCAP)

"TWENTY-FIVE MILES"


WRITTEN BY JOHNNY WILLIAM BRISTOL, HARVEY FUQUA, CHARLES EDWIN HATCHER, BERT RUSSELL, GERALD EXLER
PERFORMED BY EDWIN STARR
COURTESY OF UNIVERSAL MUSIC GROUP
PUBLISHED BY EMI MUSIC PUBLISHING

"NEVER KNOW WHAT YOU CAN DO (GIVE IT A TRY)"


PERFORMED & WRITTEN BY LEROY HUTSON
COURTESY OF TRIUMPH RECORDS
BY ARRANGEMENT WITH GOLD SOUL ENTERTAINMENT, LLC
PUBLISHED BY MUSIC OF WINDSWEPT (ASCAP) / SILENT GIANT PUBLISHING COMPANY (ASCAP)

"STRANGLEHOLD"


WRITTEN & PERFORMED BY TED NUGENT
BY ARRANGEMENT WITH MAGICLAND MUSIC AND SONY MUSIC LICENSING
Missing Information?
If any information appears to be missing from this page, contact us and let us know!