Movie Information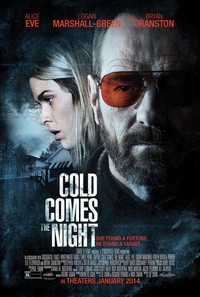 Cold Comes the Night
Released: January 10, 2014
Movie Purchasing Links
Soundrack Albums
There are no soundtrack albums in our database for this title. If this is incorrect, please contact us.
Song Credits
"THROUGH GENERATIONS"


WRITTEN BY ADAM LANSER, ALEX RIVERA, ANDY RODRIGUEZ & ISRAEL RODRIGUEZ
PERFORMED BY THE COST OF SALVATION
COURTESY OF THE COST OF SALVATION
PUBLISHED BY THE COST OF SALVATION

"SHACKLES DOWN"


WRITTEN BY ADAM KRAMER, BENNY CLARK & CHRIS CROXTON
PERFORMED BY THE BROKEN SPURS
COURTESY OF SONABLAST! RECORDS LLC
PUBLISHED BY NULUBLAST! SONGS (SESAC), ADAM KRAMER SONGS (SESAC), CHRIS CROXTON SONGS (SESAC), HOOKLINEANDSINKER (SESAC)

"GOT SOMEBODY TO DREAM ABOUT"


WRITTEN BY CHELSEA BROWN & JUSTINE BROWN
PERFORMED BY SUMMER TWINS
COURTESY OF BURGER RECORDS
PUBLISHED BY SUMMER TWINS MUSIC (ASCAP)

"ALL ON YOU"


WRITTEN BY BEN JAFFE & SUZANNE SANTO
PERFORMED BY HONEYHONEY
COURTESY OF HONEYHONEY RECORDS
PUBLISHED BY JAFFOAMERICAN PUBLISHING/ZANZIBAR LEWIS PUBLISHING (BMI).
RIGHTS ADMINISTERED BY BMG RIGHTS MANAGEMENT (US) LLC. USED BY PERMISSION.

"QU'APPELLE VALLEY, SASKATCHEWAN"


WRITTEN BY BUFY SAINTE-MARIE
PERFORMED BY HOLCOMBE WALLER
COURTESY OF SUGAROO!
PUBLISHED BY GYPSY BOY MUSIC INC. (ASCAP)

--


STOCK MUSIC PROVIDED BY ALEX KHASKIN, ILYA KAPLAN, DMYTRO KRASIUK, BRYAN DAVIS, MARCO PESCI / POND5.COM
Missing Information?
If any information appears to be missing from this page, contact us and let us know!