Movie Information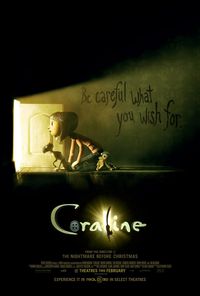 Coraline
Released: February 6, 2009
Review: Coraline
by Dan Goldwasser
February 12, 2009
4 / 5 Stars
Based on Neil Gaiman\'s 2002 novella, Coraline is a stop-motion animated film that blows away everything I\'ve seen. After moving to a rickety old apartment-house with her parents who are busy working on their gardening book and don\'t have time for her, Coraline (voiced by Dakota Fanning) is bored and startst to explore the house. She finds a small door in a wall, which (after her mom finds the key to unlock it), reveals nothing but a brick wall. However, at night the door reveals a tunnel that leads to a parallel world where her \"Other\" parents dote on her, and give her the attention she has been craving. But not everything is what it seems, and soon Coraline is faced with choosing between her real world and the Other world -but at a terrible cost. There are plenty of reasons that the story had been compared to Alice in Wonderland.

Directed by Henry Selick, the film is surreal, freaky, and brilliant. The animation is phenomenal, and as presented in 3D, blows everything away. The supporting characters are all unique and entertaining (I won\'t go into detail - just go see the film!), and when the \"Other\" world takes a decidedly darker turn towards the last third of the film, things get really crazy. I had nightmares for a few days afterwards - and this film is rated PG!

The music by Bruno Coulais is very \"French\", and has a crazy circus quality to it, as well as a song or two that adds to the tone of the film - in an uncomfortable and disquieting way. Coraline is a film that showcases excellent talent from start to finish, and is an excellent example of the future of traditional animation, especially when seen in 3D. Go see it now!
News &amp Articles
Missing Information?
If any information appears to be missing from this page, contact us and let us know!