Movie Information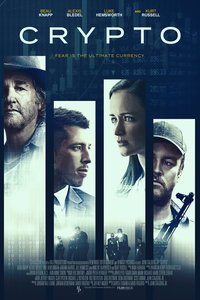 Crypto
Released: April 12, 2019
Credits
director

John Stalberg Jr.
Movie Purchasing Links
Song Credits
EUGENE ONEGIN: OP. 24, TH 5, ACT II: A, VOT ONI!


WRITTEN BY P.I. TCHAIKOVSKY
PERFORMED BY SEIJI OZAWA, WOLFGANG BRENDEL, PETER DVORSKY, ROBERT KERNS, ORCHESTER DER WIENER STAATSOPER
COURTESY OF NAXOS OF AMERICA, INC.

LOST MY WAY


WRITTEN & PERFORMED BY BRIAN BERDAN
COURTESY OF BRIAN BERDAN

HOUSE OF THE RISING SUN


ARRANGED BY JUSTIN CASH, LYRICS BY ANNETTE CONLON
PERFORMED BY ALEXIS BLEDEL
COURTESY OF GROVE ADDICTS OUTRAGEOUS MUSIC PUBLISHING

IF I KILLED YOU WHEN I WANTED


WRITTEN BY CHESTER STORTHZ
PERFORMED BY MIKE "BURGER" SCOGGINS

SHOWTIME (AKA SHOWTIMES)


WRITTEN BY REYNALDO CARTAGENA
PERFORMED BY ANNALÉ
COURTESY OF ANNA SUN LEE MUSIC

GIVE ME A REASON TO STAY


WRITTEN BY JIM WOLFE
PERFORMED BY JENNIFER DELORA
COURTESY OF SONOTON APM (ASCAP)
SONOTON MUSIC GMBH CO KG (GEMA)

ACROSS THE GREAT DIVIDE


WRITTEN BY JOHN HARVEY & BOB PEREIRA
PERFORMED BY THE BURROS
COURTESY OF ALDOR PARK PUBLISHING

OLD GROUNDS


WRITTEN BY TOMAS TWYMAN
PERFORMED BY COCO AND THE BUTTERFIELDS
COURTESY OF PEER MUSIC GROUP
Missing Information?
If any information appears to be missing from this page, contact us and let us know!