Movie Information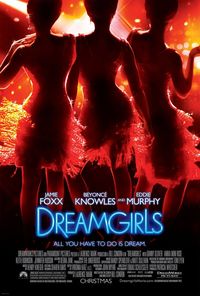 Dreamgirls
Released: December 15, 2006
Review: Dreamgirls
by Dan Goldwasser
December 16, 2006
3 / 5 Stars
Loosely inspired by the story of Diana Ross and The Supremes, Dreamgirls follows a small Detroit group of girls on their rollercoaster ride of fame and fortune. Effie White (Jennifer Hudson) is the lead singer of The Dreamettes, but when she and her two companions get a chance to sing backup to James "Thunder" Early (Eddie Murphy), they take a chance and their stardom begins to grow. But soon their manager Curtis Taylor, Jr. (Jamie Foxx) wants to take the girls out on their own - but with Deena Jones (Beyoncé Knowles) as the lead, resulting in plenty of dramatic conflict.
This film is an all-out fun-fest of music, with some great performances by everyone all around. Oscar-winner Hudson steals the show, and Beyoncé does a good turn as a Diana Ross inspired-character (director Bill Condon doesn\'t hold back with the references, especially during the "Disco phase"). The music is obviously based on Henry Krieger\'s Tony-nominated Broadway show of the same name, and was produced and arranged by The Underdogs (Harvey Mason, Jr. and Damon Thomas). Their take on the music is fresh and crisp, but the music is more "Broadway" than authentic "Motown" or "R&B". So people in the film talk about all these great new R&B songs, but then when you hear it, you actually have a Broadway tune that sounds like it\'s trying to be R&B. There is also some unconventional usage of the songs as narrative devices (characters will burst into song in mid-conversation), and as such there are some times where it\'s not clear if the music is being used as a "performance" or a "dramatic statement". Composer Stephen Trask (Hedwig and the Angry Itch) composed bridging underscore that connect many of the songs together, and his contribution is effective, if invisible.
Dreamgirls is a flashy movie, but it suffers from some plot issues, especially towards the second half, which also slows down the pace considerably. Ultimately it\'s a visual and aural treat, with some excellent costume design, choreography, cinematography, and production - but it\'s not much more than that, and at a little over 2-hours long, style can only take you so far before the lack of substance starts to let your mind wander.
Trailer Music Used From
Theatrical Trailer
"You're Gonna Love Me" Dreamgirls(1981) - Jennifer Holiday
News &amp Articles
Movie Ratings
Soundtrack.Net Users

Click stars
to rate.



Missing Information?
If any information appears to be missing from this page, contact us and let us know!