Movie Information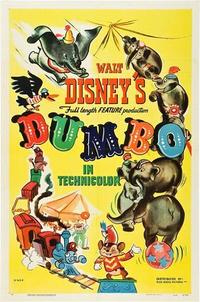 Dumbo
Released: October 23, 1941
Movie Purchasing Links
Soundrack Albums
DumboOriginal Recording Reissued and Remastered
Walt Disney Records

Released: March 27, 2001

Formats: CD, Digital (41 min)
Review: Dumbo (70th Anniversary Blu-ray)
by Dan Goldwasser
September 27, 2011
4 / 5 Stars
A few times in the 20th Century, the Walt Disney Studios faced near financial ruin, only to be rescued by one of its feature animated films.  In 1940, the studio faced financial trouble again, due to the lackluster response to Fantasia, and they banked on a small elephant with big ears to save the studio once more.  Dumbo was a return to the Silly Symphony style of animation that helped give Disney his initial success, and the simple storyline and brief running time helped the studio recoup the losses on Fantasia, just in time for the USA's entrance into World War II.
Based on the novel by Helen Aberson and Harold Pearl, Dumbo tells the story about circus elephant Jumbo, who is hoping for a baby elephant. When the stork finally delivers her little one, she is shocked to discover that he has enormous ears - a now constant source of ridicule by her fellow elephants, as well as the circus clowns.  But she loves Jumbo Jr. with all her heart, even though the other elephants now call him Dumbo.  When the clowns get a little abusive with Dumbo, the overly-protective Jumbo goes on a rampage and is locked away, deemed a "mad elephant".  Now alone, Dumbo soon forges an unlikely friendship in the form of Timothy Q. Mouse, who serves as Dumbo's pep leader.  With good intentions, Timothy convinces (subconsciously) the circus-master to put Dumbo at the top of an elephant pyramid, but the stunt goes horribly awry due to Dumbo's giant ears. 
Now a clown, Dumbo is shunned by the other elephants and more miserable than ever.  Timothy arranges a visit to his jailed mother, which helps cheer him up a bit (aided by the heart-wrenching Oscar-nominated song "Baby Mine").  After Timothy and Dumbo drink water from a bucket that alcohol had spilled into, they have a bit of a psychedelic surrealistic trip (the infamous "Pink Elephants on Parade" sequence) - and awake to find themselves high up in a tree.  A group of crows helps them figure out that it was Dumbo's large ears that got them up there, and that Dumbo can fly.  Fooling Dumbo into using a "magical" feather from one of the crows, he does indeed take to the air - and with his newfound confidence, returns to the circus where his new skills are revealed, propelling him into fame.
Dumbo is a fairly simple story, as evidenced by the synopsis above. The animation style is more caricaturist and "cartoony" than Pinocchio, and the animals are much more anthropomorphic, especially when compared to 1942's Bambi.  With the exception of the circus-master, all the humans are portrayed in costume, or in silhouette, a rather interesting choice. Unlike most Disney features, the songs don't do anything to further the storyline, and the surrealistic pink elephants sequence feels so out-of-place that it can actually be a turn-off from the otherwise engaging storyline.  The best moment of the film is the emotionally charged "Baby Mine" sequence, a tear-jerking moment every time you watch it.  It might be simple, and it might have some odd moments, but Dumbo is a straight-forward story about confidence that - 70 years later - still remains a timeless story.
Released as a 70th Anniversary Edition Blu-ray, Dumbo burst into the 21st Century looking better than it probably did in the fall of 1941 when it was in theaters.  As has been par for the course for Walt Disney Home Entertainment, they have done a spectacular frame-by-frame restoration of Dumbo, and it looks dead-on perfect.  The watercolor backgrounds are gorgeous, and the colors are deep and vibrant.    The opening sequence with the circus tent being raised is an exceptional example of the way Walt Disney's animators were able to evoke tactile feelings - you can almost feel the rain, sweat and mud, all in gorgeous HD. 
Audio is presented in a new DTS-HD Master Audio 7.1 English track, but you'd probably not really notice - most of the audio (music included) is front heavy, and with the exception of some sound effects, I barely noticed anything from the rear speakers.  Dialogue is clear, and the Oscar-winning music by Frank Churchill and Oliver Wallace is great, albeit all the audio seems to be stuck within the slightly limited frequency range that was common for a film recorded in the 1940s.  That's not a bad thing, just a reflection of the technology at the time. For purists, a lossy Dolby Digital 1.0 mono track is included, as well as French and Spanish Dolby Digital 5.1 tracks.
For this 70th Anniversary Edition, Disney went into the vault to pull out some old featurettes, as well as some delightful new extras.  Like the other early Disney features, the film was not widescreen, and you can opt to view the film in "DisneyView" mode, which puts custom artwork by Disney background artist James Coleman on the sides, changing depending on the scenes.  Watching the movie with "Cine-Explore" turned on gives us a great picture-in-picture version of the film, hosted by Pixar director Pete Docter, Disney historian Paula Sigman and Disney animator Andreas Deja.  With a wealth of behind-the-scenes footage, production photos and artwork and more, the whole history of Dumbo is laid out in real-time as the film plays out, making it essentially an excellent 64-minute "making-of" documentary.  But that's not all, there's still another making-of featurette, "Taking Flight: The Making of Dumbo" (HD, 28-min), which fills in more of the gaps, while rehashing some of the information from the Cine-Explore.
Two "Deleted Scenes" are included, newly discovered in the Disney vault.  "The Mouse's Tale" (HD, 5.5-minutes) gives us a little more back-story on Timothy Q. Mouse and the history of the conflict between mice and elephants; "Are You a Man or a Mouse" (HD, 4-minutes) is a deleted song that would have been placed after Dumbo becomes a clown.  "The Magic of Dumbo: A Ride of Passage" (HD, 3-min) is a brief reminiscence about the creation and response that people have had to the Dumbo ride in Disneyland. 
From the original DVD release, we have a few archival extras, some of which have been upgraded to HD.  "Sound Design Excerpt from The Reluctant Dragon" (SD, 6-minutes) is a short sequence about sound design from the 1941 Disney film that went behind-the-scenes at the studio.  "Celebrating Dumbo" (SD, 15-minutes) is an older featurette that has a slew of film historians and artists talking about the film and its legacy.  "Original Walt Disney TV Introduction" (SD, 1-minute) is the original intro that Walt Disney gave when the film made its television debut.  Two "Theatrical Trailers" (SD) are included, from the 1941 release and subsequent 1949 re-issue.
Two Silly Symphony shorts are also included, upgraded to HD. "Elmer Elephant" (HD, 8.5-min) is a 1936 short about a timid elephant who is In love with Tillie Tiger; "The Flying Mouse" (HD, 9.5-min) is a 1934 short about a mouse who saves a butterfly and is granted a wish - but not everything is all that he bargained for.  Finally, we have "Art Galleries" (HD) which provide tons of storyboards, concept art, and much more.
Dumbo might not be the most complicated film from the Walt Disney Studio, but it has a ton of heart and a great moral to the story.  With some A+ extras, and the now typically expected mind-blowing transfer, Dumbo has every right to appear in the center ring of your home video three ring circus.
Missing Information?
If any information appears to be missing from this page, contact us and let us know!