Movie Information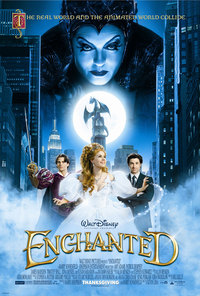 Enchanted
Released: November 21, 2007
Movie Purchasing Links
Review: Enchanted
by Dan Goldwasser
November 20, 2007
3.5 / 5 Stars
The last Alan Menken Disney musical was Home on the Range, a film I admittedly didn\'t see. However, his past collaborations with lyricist Stephen Schwartz have been rather fruitful. So it was with some anticipation that I saw Enchanted, the romantic comedy from Disney that not only pokes fun at what a \"Disney movie\" is, but also branches between animation and live-action. After being \"rescued\" by Prince Edward (James Marsden), Princess Giselle (Amy Adams) plans to get married - after only one day. Sensing a threat to her throne, the evil step-mother Queen Narissa (Susan Sarandon) banishes her into the \"real world\" - where her fairy tale mindset is in sharp contrast to the bustling and grimy New York City surrounding her. Taken in by compassionate mediator Robert (Patrick Dempsey), he and his daughter initially think Giselle is crazy - but soon come to realize that she might indeed be telling the truth about who she is. As she waits for Edward to rescue her, Robert helps acclimate her to the real world - but at the same time, Giselle helps open up Robert\'s eyes to the possibility that there is more in this world than what is just in front of you. Of course, Narissa won\'t have any of that, and dispatches her trusty henchman Nathaniel (Timothy Spall) to eliminate Giselle with a poisoned apple.

Structured as a straightforward romantic comedy, the tongue-in-cheek references to Disney films and fairy tale conventions are quite effective. In the beginning. there are the woodland creature friends who aide Giselle - but in NY, there are only pigeons, sewer rats and cockroaches. People burst into song to express their feelings (which they wear on their sleeves), and it\'s there that Menken and Schwartz deliver the goods. The songs are catchy, and in the classic Disney style. The score is big and epic, and Menken delivers a solid effort. Directed by Kevin Lima (Tarzan), the film moves at a good pace, delivers fun sequences, and has a great soundtrack. It\'s truly fun for the whole family.
News &amp Articles
Missing Information?
If any information appears to be missing from this page, contact us and let us know!