Movie Information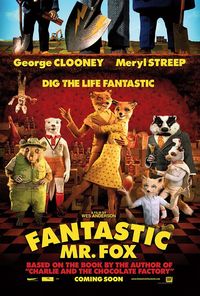 Fantastic Mr. Fox
Released: November 13, 2009
Movie Purchasing Links
Review: Fantastic Mr. Fox (Blu-ray)
by Dan Goldwasser
March 25, 2010
3.5 / 5 Stars
Fantastic Mr. Fox is Wes Anderson's unique animated film adaptation that expands on the original Roald Dahl short story.  After promising never to steal squabs again, Mr. Fox (George Clooney) and his wife Felicity (Meryl Streep) live a simple life - he's a columnist for a newspaper and they have a moody son Ash (Jason Schwartzman) - but he wants something more.  Deciding to move out of their hole in the ground, he purchases a home in a tree (against the advice of his lawyer Badger (Bill Murray)) - which also happens to be near three different farms, run by Boggis, Bunce and Bean, providing temptation to Mr. Fox's suppressed instincts. When Felicity's nephew Kristofferson (Eric Chase Anderson) comes to stay with them, his superior athleticism and natural skills make Ash feels overshadowed and underappreciated.  With the opportunity too good to overlook, Mr. Fox decides - with the help of building superintendent Kylie (Wallace Wolodarsky) - to raid the three neighboring farms.  But this raises the ire of the three farmers, and soon an all-out siege of the Fox's home begins. With his promise to Felicity broken, Mr. Fox now has to save his family and the community from the famers, make amends to his wife, and get revenge on the farmers. 
The writing by Anderson and Noah Baumbach is clever and natural, aided by the performances of the voice actors which was recorded in natural locations, not in a recording booth. Schartzman's understated performance as the angst-ridden Ash is quite good, and Clooney lends Mr. Fox a level of cockiness that fits perfectly with the character as portrayed in the film. If this were presented as a CGI-animated film, it wouldn't have the same impact as the stop-motion does.  The method of animation, as well as the set design and color palette, makes this movie the purest animated representation of Wes Anderson's unique filmmaking style that I can imagine.  Every shot just screams "Wes Anderson!", so it's not too much of a stretch to suggest that if you aren't a fan of his films, you'll likely find Fantastic Mr. Fox a bit of a challenge to get through - but you should at least give it a try.
The video quality of Fantastic Mr. Fox on Blu-ray is truly exceptional.  Shot digitally, there is a clarity that is remarkable.   Every texture and minor detail is sharp and vivid - from the text on the spine of books on a bookshelf to the fabric of clothing, the screen is almost overwhelmed by the amount of stuff on screen.  There is no motion blurring at all, so you could hit "pause" at any point - even during the most energetic action sequence - and see a perfectly shot, clear image.  Colors are vibrant, with a primarily golden brown palette, and blacks are deep and pure.  While it's a different type of stop-motion animation style than, say, Coraline, this movie definitely holds up as a reference quality presentation that is perfect for home theater demos.  Audio is also impressive, served up with English 5.1 DTS-HD Master Audio, as well as French, Spanish and Portuguese Dolby Digital 5.1 tracks.  Anderson recorded the dialogue in all natural settings, making this one of the most unique animated films I've heard, with an acoustic spatiality that feels like a live action film.  The surrounds are used mainly for sound effects and used sparingly and to great effect, but Alexandre Desplat's Oscar-nominated score really shines on this track, acting as another character in the film.  (Additionally, as with most of Anderson's films, source songs are used to great effect, and are well placed.)
Extras on the Blu-ray are decent, but not as in-depth as most of Anderson's previous home video releases.  There is no audio commentary, but a 45-minute multi-part documentary "Making Mr. Fox Fantastic" covers most of the bases.  Starting with "The Look of Fantastic Mr. Fox" (HD, 8-minutes), we look at the production design of the film, much of the influence of which was drawn from Roald Dahl's own life and home.  "From Script to Screen" (HD, 7-minutes) explores the adaptation challenges that Wes Anderson had with taking the short story and turning it into a feature length story, while maintaining the spirit of Dahl's work.  "The Puppet Makers" (HD, 8.5-minutes) looks at the artistry of the puppets, which were larger than I had thought - that explains the level of detail!  "Still Life (Puppet Animation)" (HD, 7.5-minutes) looks at the actual process of shooting the animation, and how Anderson approached it a little different than a typical animated feature. "The Cast" (HD, 6.5-minutes) explores how they selected the various actors, and how the casting choices affected the animators.  "Bill and His Badger" (HD, 7.5-minutes) is a fun little featurette focused on Bill Murray and his character of the lawyer Badger.  Watching Murray joke around on the set is always a treat. 
The remaining extras are not as in-depth, but expand a little more on the world of Fantastic Mr. Fox.  "A Beginner's Guide to Whack-Bat" (HD, 1-minutes) is a satirical look explaining (barely) the convoluted sport seen in the film.  "Fantastic Mr. Fox: The World of Roald Dahl" (HD, 3-minutes) is a little piece where Wes Anderson and Dahl's widow Felicity talk about the little cottage where Roald used to work being used by Anderson and Noah Baumbach when writing the script, and how it provided lots of inspiration.  Finally, the "Theatrical Trailer" (HD, 2.5-minutes) is included, rounding out the set of extras.
The second disc in this 3-disc set is a standard definition DVD release, which contains the film and only three of the featurettes: "From Script to Screen", "Still Life (Puppet Animation)" and "A Beginner's Guide to Whack-Bat".  The last disc includes the Digital Copy.  It's a no-brainer to say that Blu-ray is definitely the way to enjoy this film, but at least you have the option to watch it at a friend's place who doesn't have HD just yet.
Fun and witty, Fantastic Mr. Fox is a delightfully quirky film, and while it expands upon the original material in ways that might not appeal to die-hard Dahl fans, it's definitely a Wes Anderson film through and through.  With an exceptional presentation on Blu-ray, and decent amount of extras, this Oscar-nominated film is absolutely worth checking out.
News &amp Articles
Missing Information?
If any information appears to be missing from this page, contact us and let us know!