Movie Information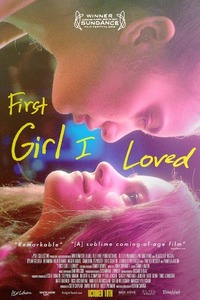 First Girl I Loved
Released: 2016
Movie Purchasing Links
Song Credits
HAWK


Written by Nicholas Scapa
Performed by Nicky Blitz
Courtesy of Lip Sync Music Inc.

THE ROOSEVELT BLUES


Written by Lance Ferguson
Performed by Lanu
Courtesy of Tru Thoughts Records

SLACKER


Written and Performed by Library Voices
Courtesy of Nevado Music

HAMMOCK


Written by Mike Diaz
Performed by Millionyoung
Courtesy of Old Flame Records

SOME CALLING SONG


Written by Jared Apuzzo, Michael Falotico & Keith Kelly
Performed by Monogold
Courtesy of Intrigue Music

APOSTROPHE


Written by Frank Zappa, Jack Bruce & Jim Gordon
Performed by Frank Zappa
Courtesy of Universal Music Enterprises

FACE TO FACE


Written & Performed by Luz Elena Mendoza
Courtesy of Bambosa LLC

HARLOT


Written by Andrew Wallace and Misun Wojcik
Performed by Misun
Courtesy of Bleed101

ANTHEMS FOR A SEVENTEEN-YEAR-OLD GIRL


Written by Kevin Drew, Brendan Canning, Justin Peroff, Charles Spearin, Emily Hanes, John Crossingham, James Shaw & Jessica Moss
Performed by Broken Social Scene
Courtesy of Arts & Crafts Productions, Inc.
Missing Information?
If any information appears to be missing from this page, contact us and let us know!