Movie Information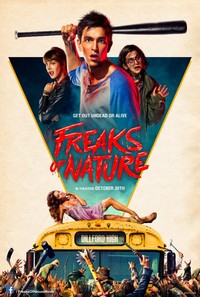 Freaks of Nature
Released: October 30, 2015
Soundrack Albums
There are no soundtrack albums in our database for this title. If this is incorrect, please contact us.
Song Credits
"Fever Dreaming"


Written and Performed by No Age
Courtesy of Sub Pop Records

"Days"


Written by Jonathan Pierce and Connor Hanwick
Performed by The Drums
Courtesy of Frenchkiss Records
By arrangement with Lip Sync Music, Inc.

"Kill For Love"


Written by Adam Miller and John Padgett
Performed by Chromatics
Courtesy of Italians Do It Better

"It's Simply Love"


Written by Amedeo Frank Longo and Lawrence Peter Longo
Performed by The Longo Brothers
Courtesy of Crucial Music Corporation

"On My Mind"


Written by Michael McFadgen and Clayton Chauncy Sherod
Performed by CharlieRED
Courtesy of Ingland Harry
By arrangement with The Greater Goods Co.

"Deceive"


Written by Anders Trentemøller and Sune Rose Wagner
Performed by Trentemøller
Courtesy of In My Room
By arrangement with Visions From The Roof

"Moments Of Love"


Written by Inez Polizzi and Ray Sanders
Performed by Debbie Martin
Courtesy of Fervor Records Vintage Masters

"The Heat"


Written by Thomas McFarland and Joshua Lloyd-Watson
Performed by Jungle
Courtesy of XL Recordings Ltd.
By arrangement with Beggars Group Media Limited

"Jump On It"


Written by Dia Sekou Hodari and Ricardo J. Spicer
Performed by SweatBeatz
Courtesy of SweatBox Productions LLC
By arrangement with Shelly Bay Music

"Germ Free Adolescents"


Written by Marianne Elliott
Performed by X-Ray Spex
Courtesy of Poly Styrene
Under license from Sanctuary Records Group Ltd., a BMG Company

"My Life Is Right" (Alternate Mix)


Written by Christopher Bell and Tom Eubanks
Performed by Big Star
Courtesy of Ardent Records
By arrangement with Music Alternatives, LLC

"Evil Soul"


Written by Nicholas Joseph DiFalco,
Jon G. Deminico and Dana Angelina Kind
Performed by The Young Werewolves
Courtesy of Crucial Music Corporation

"User"


Written by Kovasciar Myvett
Performed by KOVAS
Courtesy of dms.FM

"Fall In Love Again"


Written by Chris Cirak and Marcia Lee
Performed by Fuzzy Dora
Courtesy of Crucial Music Corporation

"We Didn't Start The Fire"


Written by Billy Joel

"Born On A Saturday Night"


Written by Christian Blunda and Andrew Bassett
Performed by Mean Jeans
Courtesy of Dirtnap Records
By arrangement with Sub Pop Records

"It's Alright, It's OK"


Written by Bobby Gillespie and Andrew Innes
Performed by Primal Scream
Courtesy of Ignition Records Ltd.
Under license from Hidden Track Music
Missing Information?
If any information appears to be missing from this page, contact us and let us know!