Movie Information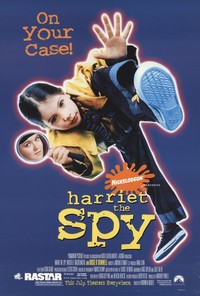 Harriet the Spy
Released: June 12, 1996
Credits
Movie Purchasing Links
Soundrack Albums
There are no soundtrack albums in our database for this title. If this is incorrect, please contact us.
Song Credits
"ACK WACK"


By ELDEE YOUNG, HYSEAR WALKER, ISAAC HOLT & DON STORBAL
Performed by YOUNG-HOLT UNLIMITED
Courtesy of Brunswick Record Corp.

"SOUS LE SOLEIL DE BODEGA (EXTENDED)"


By N. ROTA & S. MELLINO
Performed by LES NEGRESSES VERTES
Courtesy of Virgin Records

"STRAITJACKET"


By EDDIE ANGEL
Performed by LOS STRAIT JACKETS
Courtesy of Upstart Records
By arrangement with Ocean Park Music Group

"LA SERENATA"


By FRANCESCO PAOLO TOSTI & GIOVANNI ALFREDO CESAREO
Performed by BENIAMINO GIGLI
Courtesy of EMI Classics
Under license from BMI-Capitol Music Special Markets

"ARROLLANDO"


By LIBRADA OCHOA

"SAMBA RAMBA"




"BASELINE SHUFFLE"




"VISIT RUSSIA"


By OLE GEORG
Courtesy of OGM Production Music

"USKA DARA"


By STELLA LEE
Performed by EARTHA KITT
Courtesy of MCA Records

"RAN KAN KAN"


Written and Performed by TITO PUENTE

"ALL FOR ONE"


By EGIDIO COCCIMIGLIO

"ST. JAMES INFIRMARY"


By JOE PRIMROSE
Performed by DERRICK SHEZBIE
Courtesy of Qwest/Reprise Records
By arrangement with Warner Special Products

"BOY TO MAN" MUSIC


Courtesy of Churchill Media

"GET UP OFFA THAT THING"


By DEANNA BROWN, DEIDRA BROWN & YAMMA BROWN
Performed by JAMES BROWN
Courtesy of Polydor records
By arrangement with PolyGram Film & TV Licensing

"THE SECRETIVE LIFE"


Written by JILL SOBULE, ROBIN EATON & PAT MacDONALD
Performed by JILL SOBULE
Produced by BRAD JONES and ROBIN EATON
JILL SOBULE performed courtesy of Lava Records
Trailer Music Used From
Theatrical Trailer
"Peter Gunn" (1958) - Art of Noise
Missing Information?
If any information appears to be missing from this page, contact us and let us know!