Movie Information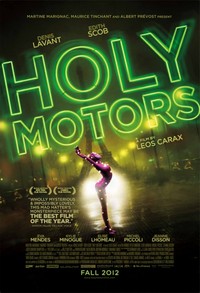 Holy Motors
Released: October 17, 2012
Soundrack Albums
There are no soundtrack albums in our database for this title. If this is incorrect, please contact us.
Song Credits
--MUSIQUE ORIGINALE--

"Who Were We ?"


(Neil Hannon - Carax & Neil Hannon)
Interprete par Kylie Minogue
Orchestre et arrange par Andrew Skeet
Orchestre: Berlin Music Ensemble

--MUSIQUES ADDITIONNELLES--

Funeral March (Adagio molto)


String Quartet 15 E. Op. 144
Dmitri Shostakovich
Performed by Rubio Quartet
(c) Brilliant Classics

Godzilla, Main Title


Sinking of Bingou-Maru
from GODZILLA original sound track
All compositions created by Akira Ifukube
(c) & (p) Toho Music Corporation

"Revivre"


(G. Manset / G. Manset)
G. Manset (Tous droits reserves)
(p) 1991 CAPITOL, un division of EMI MUSIC France
avec l'aimable autorisation de EMI MUSIC France

"Let My Baby Ride"


(R.L. BURNSIDE / TOM ROTHROCK)
(c) Wixen Music Publishing Inc.
A/C Big LEgal Mess LLC (BMI) / Bunk Scoobs Music
(Droits pour la France et territoires Sacem, Europe no 1)
et RTL programmes francais : Strictly Confidential France sarl
Mercai a Doctor L, Elliot Simon et Quentin Auvray

"How are you getting home ?"


(Ron Mael)
interprete par SPARKS
(c) Imagem CV represented by Imagem SARL
(p) 1975 Island Records Ltd.

Can't get you out of my head"


interprete par KYLIE MINOGUE
(R. Davis / C. Dennis)
(c) MCA Music Ltd / EMI Music Publishing Ltd
(p) 2001 EMI Records Ltd.
Avec l'autorisation de UNIVERSAL MUSIC Vision et de EMI MUSIC France
Missing Information?
If any information appears to be missing from this page, contact us and let us know!