Movie Information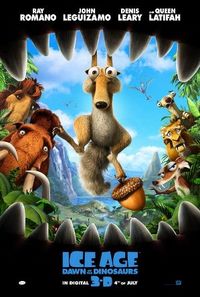 Ice Age: Dawn of the Dinosaurs
Released: July 1, 2009
Credits
director

Carlos Saldanha

director

Michael Thurmeier
Movie Purchasing Links
Review: Ice Age: Dawn of the Dinosaurs (Blu-ray)
by Dan Goldwasser
November 5, 2009
3 / 5 Stars
In the 2002 computer-animated feature Ice Age, we met Manny the wooly mammoth (Ray Romano), a lonely fellow who ends up joining forces with an unlikely group - Sid the ground sloth (John Leguizamo) and Diego the saber-toothed tiger (Denis Leary) - to help return a human baby to its tribe.  The success of the film spawned a sequel, 2006's Ice Age: The Meltdown, which introduced a love interest for Manny in the form of female mammoth Ellie (Queen Latifah), as well as some annoying comic relief in the guise of opossums Crash (Seann William Scott) and Eddie (Josh Peck).  Now in the third outing, Ice Age: Dawn of the Dinosaurs, Ellie is pregnant, and Sid feels left out of the family unit.  So, when he falls into a cavern and discovers three eggs, he adopts them as his own - but soon they hatch, and he's soon a "mommy" to three baby T-Rex dinosaurs.  Of course, their mother comes calling from the lost world below the ice, and takes them back to her nest.  Manny and Ellie, along with Crash, Eddie and Diego, end up travelling down to this hidden world to rescue Sid, encountering new challenges and prehistoric perils along the way.  They also meet Buck (Simon Pegg), a one-eyes weasel who saves their skins on more than one occasion.  Together they all need to find Sid and bring him back to the surface - but there's a bigger danger, in the form of Rudy, an albino baryonyx.  Throughout all of these films is a side-story involving Scrat, the loveable saber-toothed squirrel, and his beloved acorn.  In this third film, he faces a new foe - the luscious Scratte - who wants his acorn just as much as he does.
Ice Age: Dawn of the Dinosaurs is a cute film.  It doesn't have as solid a storyline as the first film, and tries a little too hard to force the comedy.  The action sequences are well choreographed, and as the film was shown in 3D in theaters, much of the camerawork provides for plenty of dynamic motion.  In 2D it doesn't have quite the same effect, but it still makes for plenty of excitement.   Released on Blu-ray in a triple-disc set (Blu-ray, DVD and Digital Copy), Ice Age: Dawn of the Dinosaurs is easily the best looking of the three films.  Rendered by Blue Sky Studios, the colors are more vibrant and textures more detailed than the previous two films, especially since much of the action takes place in the lush green jungle environment, as opposed to the stark white ice and snow landscapes of the surface.  There's no grain to be found, as this is a direct-digital transfer, and it's quite nice.  Fur and hair especially look quite sharp and detailed; this is definitely a reference-quality image.  The sound, however, is not as dynamic and immersive as I would have expected.  Presented as DTS-HD Master Audio 7.1, much of the action is front-laden, and while there is good range, it's certainly less engaging than most animated features.  The music by John Powell is quite prominent in many sequences as well, and gets a nice boost from the improved audio fidelity (compared to the album). Additional languages are included in Spanish, French and Portuguese Dolby Digital 5.1.
Ice Age: Dawn of the Dinosaurs has a decent array of extras. First up is the group commentary track by the two co-directors (Mike Thurmeier and Carlos Saldanha), two producers (Lori Forte and John Donkin), character designer Peter DeSeve, and art director Michael Knapp.  It's a surprisingly mediocre commentary, leaning heavily on the self-adulation of their efforts, and technical aspects of the production, and less on the actual process of making a film.  For the kids, the "Ice Age Storybook Maker" lets you grab frames from the film, and add some pre-written text to create your own storybooks.   "Evolution Expedition" (HD, 18.5-minutes) is a look at the real Ice Age mammals, and their modern-day cousins.  It does a rather impressive job at conveying a lot of scientific information in a kid-friendly way. "Buck: From Easel to Weasle" (HD, 7-minutes) is a look at the development of the newest character in the Ice Age family, containing interviews with the filmmakers and actors.  "Unearthing the Lost World" (HD, 8.5-minutes) explores the new direction that the look and feel of the film took, when compared to the previous two Ice Age features.  The challenges of keeping the "Lost World" sequences fitting in with the snowy scenes are explored, as well as the technical solutions that were developed for this third outing.  Two "Unfinished Deleted Scenes" (SD 16x9, 4.5-minutes) are presented as rough animated storyboards. They're decent enough scenes, but no commentary is included to explain why they were excised from the film and never completed.
"Walk the Dinosaur (Music Video)" (HD, 1.5-minutes) is a quick montage of shots from the film set to the Queen Latifah end title song. Two previously released Scrat-based shorts are included here, each from the previous Ice Age DVD releases.  "Gone Nutty - Scrat's Missing Adventure" (HD, 5-minutes) and "No Time For Nuts" (HD, 7-minutes) are very cute and fun, but it's a bit of a head scratcher why they didn't make a new third short for this new film, and instead just provided the two older ones.  In the "Scrat Featurettes" section we have five more extras - the first four from Ice Age: The Meltdown.  "The Saber-Toothed Squirrel: Nature's Nutty Buddy" (SD 16x9, 2-minutes) is styled like a vintage educational film. "Scrat: From  Head to Toe" (SD 16x9, 8.5-minutes) looks at the creation and development of the beloved character, as well as instructions on how to draw him.  "Breaking Story" (SD, 2-minutes) and "News Report" (SD, 2.5-minutes) are two rather pointless news items centered around a modern day expedition that discovered Scrat frozen in ice.  The only new Scrat featurette for this third film is "Falling for Scratte" (HD, 8.5-minutes), which is a look at Scrat's new romantic interest, and the success and popularity of the dialogue-free slapstick sequences.
Four "Fox Movie Channel Presents" featurettes are included.  "Making a Scene (Ice Age 2)" (SD, 9.5-minutes), "In Character with Ray Romano" (SD, 3.5-minutes), "In Character with Queen Latifah" (SD, 3-miunutes), "In Character with Queen Latifah" (SD, 3-miunutes), and "Making a Scene" (SD, 9-minutes) look at two sequences from the last two films in the trilogy, as well as some character discussions with the actors.  And finally, as a Blu-ray exclusive, during the film we now have the BD-Live enabled "Live Lookup" feature, which ties into the Internet Movie Database to provide viewers with instant filmographies of the various actors that appear in any given scene.
Ice Age: Dawn of the Dinosaurs is an entertaining and amusing film, but it doesn't have as much heart as the first one did.   It has a gorgeous digital transfer and the Scrat / Scratte sequences are delightful to watch.  With a solid amount of extras, fans of the film will definitely want to pick this one up. Otherwise, I'd recommend renting it first.
Trailer Music Used From
Theatrical Trailer
"Also Sprach Zarathustra" - Richard Strauss
Plays at the beginning.
Missing Information?
If any information appears to be missing from this page, contact us and let us know!