Movie Information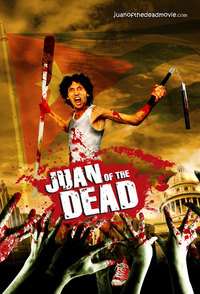 Juan of the Dead (Juan de los Muertos)
Released: March 16, 2012
Credits
director

Alejandro Brugues
Movie Purchasing Links
Soundrack Albums
There are no soundtrack albums in our database for this title. If this is incorrect, please contact us.
Song Credits
"MY WAY"


Letra Inglesa: Paul Anka
Musica: C. Francois / J. Revaux
(c) Copyright by Warner/Chappell Music France / Jean Musique
(c) 1968 by Paul Anka, Claude Francois, Lucien Thibaut, Jacques Revaud, Warner Chappell Music France, Jeune Musique Edition Sarl.
Bajo licencia de Sony/ATV Music Publishing (Spain) LLC S. en C.
Interpretado por Sid Vicious
(P) 1978 The copyright in this sound recording is owned by Sex Pistols Residuals under exclusive license to Virgin Records Ltd

"BACALAO CON PAN"


(Dionisio Jesus Valdes Rodriguez "Chucho Valdes")
(c) Copyright 2000 by SEEMSA (Ed. Misa Negra), Alcala, 70, 28009 Madrid (Espana)

"Por cortesia de EGREM"

"ELLA ME QUIERE MATAR"


Pedro Cmacho y El Clan
Por cortesia de Ahi na ma music

"TU VIDA CON LA MIA"


"YO NO QUIERO VERTE MAS"
"CAMINA COMO UN MUERTO"
"JONES EL PASTOR"
"FUNKA DIECISEIS"
"EL BRUCE ES EL BRUCE"
"BAJANDO MALECON"
"SIGUE TU CAMINO"
Autor: Sergio Valdes
Interpretes: Sergio Valdes y Los Fantasmas de Elevense
Por cortesia de Sergio Valdes
Missing Information?
If any information appears to be missing from this page, contact us and let us know!