Movie Information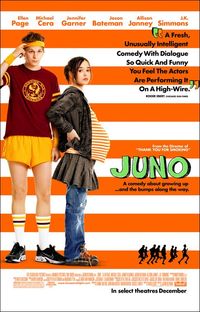 Juno
Released: December 5, 2007
Credits
Movie Purchasing Links
Review: Juno
by Dan Goldwasser
December 27, 2007
3.5 / 5 Stars
After getting pregnant, High School student Juno MagGuff (Ellen Page) plans on getting an abortion, but ends up deciding to bring the baby to term, and let Yuppie couple Mark and Vanessa Loring (Jason Bateman and Jennifer Garner) adopt it. But as the pregnancy progresses, her decisions affect the lives of those around her, including her father (J.K. Simmons), step-mother (Allison Janney), and her friend Paulie Bleeker (Michael Cera) - who is also the father of the baby.

Such is the story of Juno, in which teenage pregnancy is neither condoned nor condemned, but rather explored as a character study, with Juno being a rather off-beat student, one who sees the pregnancy as a nuisance that she just has to get through - but one that she is determined to complete. Everyone else around her takes the pregnancy seriously (except for Paulie, who has been left out of the whole process post-conception), but Juno just wants to get through it - and try not to get attached to the baby in the process.

Director Jason Reitman (Thank You For Smoking) has crafted a very solid film, with the highlight being Ellen Page\'s portrayal as the off-beat teen. Her wise-cracking smart-mouthed approach to life is fascinating to watch, and the film has a very distinct \"Indie\"-vibe, from the animated opening title sequence to Matt Messina (credited as \"Mateo Messina\")\'s guitar-heavy musical score. Juno is a bitter-sweet comedy, and it never makes light of the serious underlying issue, but it does give us a solid movie about relationships and how decisions can affect the lives of others.
Trailer Music Used From
Theatrical Trailer
"Anyone Else But You" - Moldy Peaches
"All the Young Dudes" - Mott the Hoople
News &amp Articles
Missing Information?
If any information appears to be missing from this page, contact us and let us know!